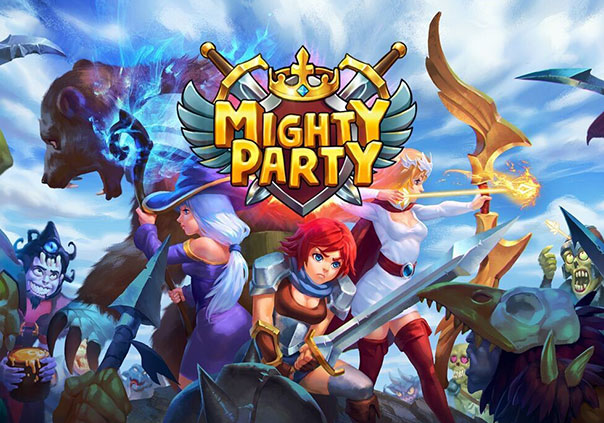 Mighty Party is a free-to-play fantasy strategy game developed by Panoramik Inc for PC and is available for download on Steam. In Mighty Party players can engage in fast-paced tactical card battles involving Champion characters.
Every Champion has its own set of diverse features and characteristics that makes it either more or less useful depending on the situation you find yourself in. Some Champions even have enough presence to change the entire feeling of the battlefield in mere moments, so be ready for anything to happen. Your Champions can also be leveled up, bound with others, or turned into gold versions of themselves. Learning what each Champion has to offer you can improve strategy on your end, as well as counter strategies and predicting what your opponents might do. Exploiting your opponent's weaknesses while doing your best to prevent them from discovering your own will help lead you to victory.
Mighty Party's Campaign mode will have you embarking on an epic hero's journey in the story of Heavenly Roads. There are many other ways for you to challenge yourself as well, including PvP battles. Fight in tournaments, events, raids, Survival mode and more for rewards. Climb through the ranks to earn the biggest rewards that will really improve your deck's strengths. The game is also always changing every week or two, getting updated with new gameplay features, events, Champions and more to spice up all of the fun you are already having.
What are you waiting for? There are Champions out there in need of a leader! With simple gameplay and many tactical options you'll be able to jump right in and get to work perfecting your deck. Guide your Champions with wisdom and skill to work your way through the ranks while showing off your tactical prowess in Mighty Party!
Status: Released
Release Date: Mar 30, 2017
Business Model: Free to Play
Developer: Panoramik Inc
Publisher: Panoramik Inc
Category: Stand-alone
Genre(s): 2D, MMO, Fantasy, Strategy
Platforms: PC, Steam

Editor's Score: 3/5

Pros:

+Easy to pick up.
+Good time killer.
+Cards are well balanced.

Cons:

-Feels like a mobile game on PC.
-Standard wait times to open chests.
-Strategy doesn't play much of a role.



Recommended System Requirements:

OS: Windows 7 or later
RAM: 2 GB
HDD: 450 MB