Lineage 2: Revolution Launches 'Kamael' Update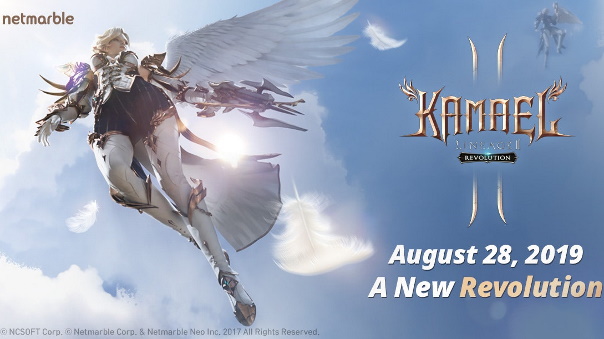 Lineage II: Revolution has a new update that's live today, and brings with it the new 'Kamael' race. The cold-blooded, powerful Kamael is the sixth race to join the game, following the Orcs last year. They were designed by the Giants as a weapon to combat the Gods, they are powerful and can absorb the souls of their foes to use in battle. When selecting the Kamael to start, players begin in the new 'Soul Island' territory and have access to three classes – the Berserker / Doombringer (Warrior), the Arbalester / Trickster (Rogue), and the Soul Breaker / Soul Hound (Mystic) – along with exclusive weapons for their classes.
This update also adds the 'Dual Class' system, where players can experience an additional character class with the same character growth. This includes the level and items that are inherited from the existing character. With this major update, players can receive three sets of Grade UR Equipment, the highest grade of its kind, by playing the main quests and participating in the in-game events. Players who previously pre-registered for the new update will also receive one +30 Enhance Scroll.
Other Features Added in this Update:
 New Server Addition – The Gunter and Lancer servers will be added to Lineage 2: Revolution in the western region starting from August 29 (specific time will be notified to players via the official game forum). Players who make new characters on these servers will receive Adena, Red Diamond, and three types of daily benefits for seven days.
Level-up has become 3x faster for players, with easier gameplay routes.
In Game Events – Celebrate the launch of the Kamael race with these fun-filled events, including:

Kamael Welcome Race – Pan's A-Maze-ing Event is back to commemorate the arrival of the Kamael race.
Dual Class Check-In Event – Log-in into Lineage 2: Revolution for 14 days to receive rewards, including a Scooter Mount.
[New Server Only] Discount Event – Equipment Level-up and Upgrade costs are discounted for players on new servers.
[New Server Only] Lucky Box Event – Test your luck after getting some Lucky Tickets' for a chance to receive the 1st place prize.
Gunship Battle: Total Warfare released a new update from Joycity, the World War update. This update brings a massive-scale war.
by Ragachak
World of Tanks busts over 120,000 online concurrent users, shattering its old record.
by MissyS