League of Angels III Receives New Mythic Hero and Angel Pass Makeover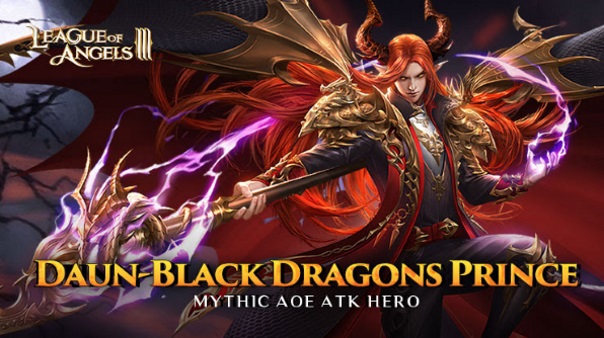 Daun, Prince of the Black Dragons was announced this morning for League of Angels III as a new Mythic Hero. He endured a life of forced exile and after his father and brother were punished for transgressions against the Angels, Daun abandoned their throne and rebelled. Daun traveled the Grace Continent for years and eventually returned to the Black Dragons to attempt to restore the throne to its rightful owners. Daun is also the first male Mythic Hero in League of Angels III and will be available in Featured Hero Events.
League of Angels III is also celebrating Silver Dragon Day this month, which marks the establishment of the Silver Dragon Knight, and the death of the former Silver Dragon King. In honor of this, the event began on June 5th and includes a new SUP Mythic Divine Arma 'Dawn of Glory', which is still available in the Angel's Fortune event. A new legendary companion 'Woods Nymph' can be found from today — in the Egg Cracker event. While new outfits 'Crystal Feathers' alongside a new achievement 'Silver Dragon Knight' arrives in-game June 15. June 22nd will see a new mount joining the game, the 'Feathered Dragon'.
The Angel Pass will also see a makeover, in the v5.4.1 update. Players will be able to unlock bonus Runes that increase Effect Resistance. These Runes can also protect you from Control Effects used in the battle against your Heroes. Magic Circle cultivation resources are on sale in Angel's Treasure — with lots of Hero, Companion, Relic, and Divine Arma Resources for players.
Next Article
Today, Super Evil Megacorp is launching Vainglory update 1.13, ushering in the new Vainglory Winter Season.
by MissyS
Super Dungeon Bros will be shown at this year's E3 in Los Angeles in the South Hall, room #3054 with never-before-seen content.
by MissyS
Red 5 Studios™ announced today that Firefall's final public Beta Weekend test begins this Friday, June 7, and will be Firefall's last ev...
by MissyS