Jam City Teams with 'When We All Vote' to Mobilize Voter Registration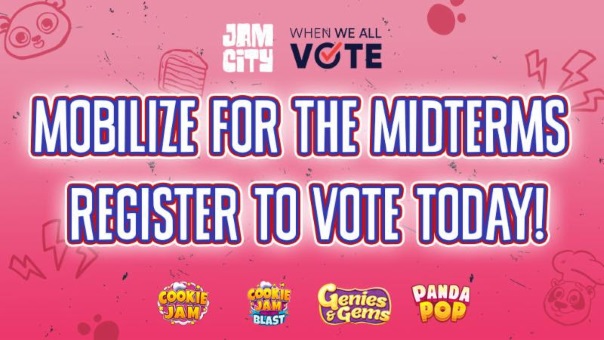 Jam City has announced today that they are teaming with the national, non-partisan non-profit "When We All Vote" to drive online voter registration. From October 3rd-5th, players of Cookie Jam, Cookie Jam Blast, Panda Pop and Genies & Gems will be served with a non-partisan reminder to exercise their right to vote in time for the November 6th midterm elections. Voting has never been more important, and this will coincide with many states' deadlines for voter registration (during the first week of October). With the average smartphone user spending 55 minutes per day playing mobile games, this message will be served to a vast, highly engaged audience, on a platform that packs the highest impact.
95% of Americans own a smartphone, relying on their devices for entertainment, information and communication. With the ubiquity of these devices, more than 185 million Americans play mobile games. As the public at large continues to transition from traditional information mediums like television, newspapers and magazines, to mobile channels, mobile games offer an untapped connection point to inform and engage voters.
"Mobile is America's platform for work, play, expression and information," stated Jam City co-Founder and CEO, Chris DeWolfe. "With this partnership, it's also a platform for action and involvement. Jam City has a unique opportunity to serve the millions of people that play our games each day on their mobile device, by connecting them with vital voter registration resources. We're excited to partner with this esteemed organization and 'mobilize' the mobile games audience to make their voice heard in the midterm elections."
Arena of Heroes is now in open beta, and is essentially a turn-based DOTA game that pits players against one another through matchmaking. With...
by DizzyPW
Brawlhalla gained its 36th legend today with the release of the axe and cannon-wielding brute, Xull.
by MissyS
Artix Entertainment is celebrating its 10 year anniversary this week... or it would be, if not for EbilCorp.
by MissyS