Hearthstone's 'The Dalaran Heist' Now Live in Rise of Shadows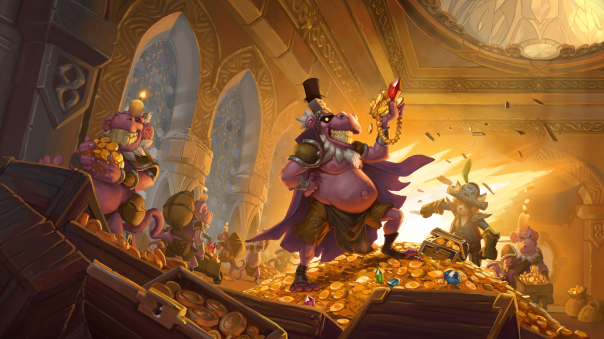 With last month's Rise of Shadows release in Hearthstone, an announcement was made for the next PVE adventure. This event, The Dalaran Heist has now officially begun, and it's time to join up with Arch-Villain Rafaam – the only mustache-twirling criminal genius without a face – and his cast of villains: The League of E.V.I.L.. They're getting set to pull off the greatest caper in Azeroth's history: Stealing the floating city of Dalaran. The whole city! That is the focus of this Solo Adventure.
Kicking off the first-ever year-long storyline in Hearthstone, players will do the dirty work of carrying out the League of E.V.I.L.'s nefarious plans. Spanning five massive chapters, the endlessly replayable Dungeon Run-style experience is filled with challenging bosses, strategic decision-making, and not-so-strategically planted explosives (Dr. Boom is involved, after all). The Dalaran Heist brings nine new anti-hero henchmen characters, replacing the playable classes in Hearthstone. Each is fully-voiced and has a customizable loadout comprising of unique Hero Powers and multiple deck options. With each of the five chapters offering a deep game experience, The Dalaran Heist should keep players entertained through several escapades.
The first chapter of this adventure is at the low, low price of free. The four subsequent chapters can be unlocked for 700 gold or $6.99 USD each or purchased as an all-inclusive package for $19.99 USD. Unlocking all five chapters will grant players the awe-inspiring power of Zayle, Shadow Cloak—a one-card ticket to five full League of E.V.I.L. decks. Crime pays, of course: players will also earn 3 Rise of Shadows card packs for every chapter they complete, with more rewards awaiting those who finish all five.
Heroes Evolved has brought some highly anticipated killer features to a genre everyone said was all but dead on mobile.
by MissyS
Perfect World Entertainment has announced the release of the Summer Content Update for Jade Dynasty.
by MissyS
In Battle Dragons you will fight alongside the legendary flame spewing winged lizards.
by Proxzor