The Alchemist Code Collaborates with Attack on Titan This Summer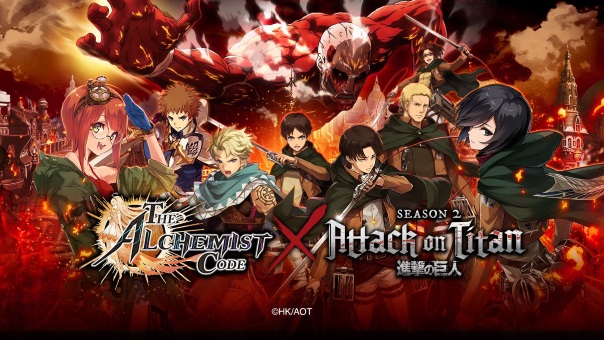 gumi announced this morning that a new collaboration is coming this summer, with popular anime/manga, Attack on Titan. This The Alchemist Code event will run from June 6th-July 3rd 2019, and players will be able to unlock soldiers from the Scout Regiment during this time. Iconic characters from Attack on Titan, as well as two new The Alchemist Code characters will be aiding players in repelling the Titan invasion from Babel. For a limited time only, players will get a chance to obtain two unique ATTACK ON TITAN collaboration Mementos – "Victorious Crimson Arrow" and "I Won't Surrender to the Flames of Vengeance". Upon completion of the Collaboration Quest, players will receive the "Victorious Crimson Arrow" Memento as a reward. They will also be able to play an original story starring the Attack on Titan cast as they work to find the answers behind the appearance of the Titans.
Collaboration Units:
For a limited time only, recruit these four iconic soldiers of the courageous Scout Regiment from ATTACK ON TITAN:
THE ALCHEMIST CODE Units:
Two new THE ALCHEMIST CODE characters with captivating backstories will be available for the players to summon during this collaboration.
Free Units:
All players will receive Reiner once they completed the first ATTACK ON TITAN Collaboration Quest. Max out his abilities to unlock an immense power that will take your opponent's down.
Collaboration Gear
Unlock character's Master Abilities with their respective gear:
Eren's Basement Key
Reiner's Flare Gun
Levi's Teacup and Handkerchief
Hange's Googles
Mikasa's Scarf
Omni-Directional Mobility Gear
Wings of Freedom
Leading online developer and publisher Ankama announced today that its strategy game Krosmaster Arena will soon be available in a fully animat...
by Mikedot
Netmarble announced that IDEA (working title) is targeted to launch in South Korea this July with a North America release to follow.
by MissyS
Enplex Games is gearing up for Population Zero's upcoming Alpha Phase of development.
by Ragachak