Grand Chase: Monster Train Event Returns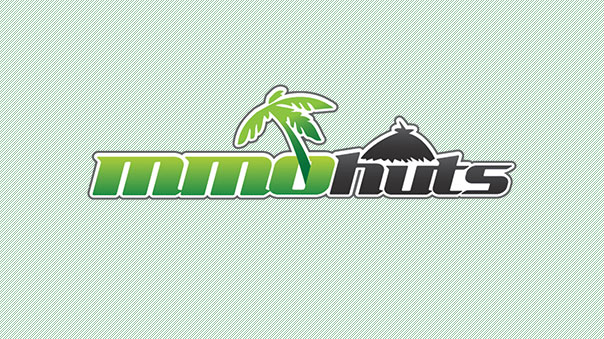 KOG Games, a leading developer and publisher of popular free-to-play action MMORPGs, today announces the launch of numerous new content events.
All aboard the Monster Train! The Underworld Express 301 makes its triumphant encore performance as the trans-dimensional, fright filled ride to the Underworld. The Grand Chase travels to the seething, demonic steppes of hell's doorstep in hopes of saving the soul of Ronan's childhood friend Harpe, who unfortunately met his sudden end at the hands of the evil Ashtaroth.
Tickets please! ~ The Monster Train offers players a glimpse into the dark world of a phantom passenger train, transporting souls to a foreboding destination. In an environment rife with ghoulish surprises behind every curtain and in every booth, players are steeped in an eerily enchanting corner of an already remarkable, anime inspired world. With selectable difficulty levels that can cater to any play-style, everybody's invited.
The Monster Train Dungeon will be available from 12/05/14 – 12/18/14. Players can login to Grand Chase and receive 3 Single Passenger Tickets. One ticket will be consumed with each successful Dungeon entry. To enter, click on the Monster Train button located under the Event Dungeon icon from the in-game World Map.
In addition, Grand Chase is throwing in some very cool character events.
For starters, the playable character Zero will get his own spotlight. No longer will Zero be bound to covering his eyes with Job defining spectacles, players will now be able to choose their own look for Zero. However, what makes this event awesome is the fact that for a limited time (from 12/05/14 – 12/18/14) anybody who logs in during the Event gets a chest with their very own, character specific Zero-styled Goggles.
That's not all! Edel and Rin will be getting their own Ultimate Weapon missions and Coordi-Shop updates.
ALL ABOARD! These events won't be around for long. The Chase is On!
Players can visit, http://grandchaseonline.com/ now for all the latest information.
Next Article
SEGA has announced that the Phantasy Star Online 2 New Genesis 1st Anniversary celebrations are underway!
by MissyS
MU Origin will be officially launched in App Store and Google play on June 8, 2016 (UTC).
by MissyS