Final Fantasy XIV's Patch 4.35 Is Live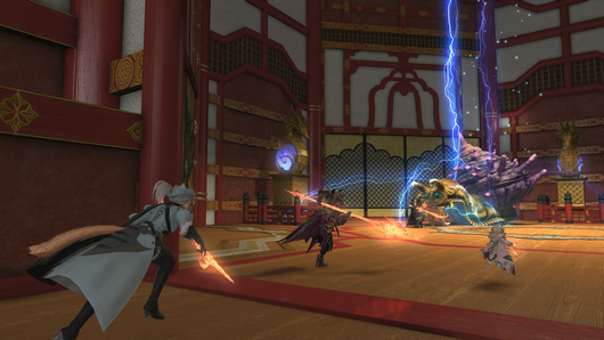 Patch 4.35 for Final Fantasy XIV is officially live, and offers a brand new Deep Dungeon entitled "Heaven-on-High". 100 floors await that grow more difficult with each level and also has a reworked leveling system specific to the Deep Dungeon in addition to special rewards for those who can reach the highest floor. Hildibrand's also back, with a new questline involving the investigator extraordinaire who is trying to solve crimes by the Wolf Burgler in the Far East. Further details about the patch can be found in the link below. Alongside this patch is The Feast Regional Championship 2018, which is a series of official PVP tournaments being held in North America, Europe and Japan (determining the champions per region), and preliminaries begin on Tuesday, July 3rd and continue through Monday, August 13th. Winners of the preliminaries will advance to the online semifinals—streamed and hosted by Square Enix—to determine the final teams to participate in the North American finals held at the Fan Festival 2018 in Las Vegas. More info on The Feast can be found here.
Finally, fans can also look forward to the Final Fantasy Xiv Online Fan Festivals around the world, and further information on that was announced today. The first one this year will be taking place on November 16-17 2018 in Las Vegas at the Rio All-Suite Hotel and Casino, and tickets will be on sale beginning on July 10th at 12:00 PM PDT. Details on this will be available on The Lodestone. The event will be live streamed free of charge in all regions, and will include all stage content except for the concerts.  Attendees of Fan Festival 2018 in Las Vegas will receive a special Fan Festival mount: the SDS Fenrir designed. Additionally, attendees of each Fan Festival event will receive an in-game minion specific to that event—minion details are to be provided at a later date. Those unable to attend the events may purchase these items on the Mog Station at a later date. The Final Fantasy Fan Fest website will also feature more info.
Nexon has reopened Mabinogi's servers after their unexpected 40-hour downtime, due to a security breach in-game.
by MissyS