The Curtains Rise on Old School Runescape's New Raid – Theatre of Blood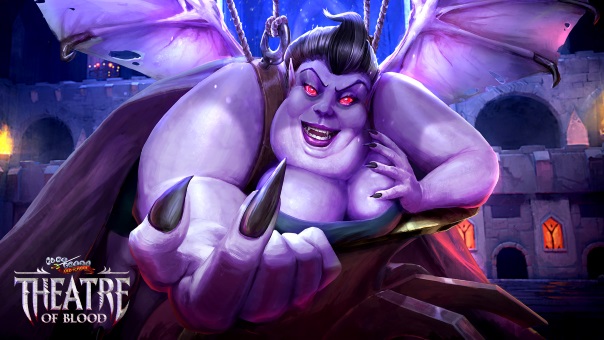 A sequel to the first raid of Old School Runescape, Chambers of Xeric was overwhelmingly voted into Old School Runescape, and thus begins Theatre of Blood. Over 90% of 40,000+ players voted in favor of Theatre of Blood, and now the vampyres of Morytania are swearing redemption on adventurers who bravely survive Theatre of Blood, a five-person raid that goes live today. The new PvE raid features a new wiping death mechanic for Old School RuneScape, where individuals who die watch from the sidelines while their surviving teammates continue fighting that room's challenges. A gauntlet featuring battle-thirsty warriors, horrific nightmare creatures and life-threatening puzzles awaits, and the final battle will be against Lady Verzik Vitur herself.
Balancing and testing of the content was undertaken by some of Old School RuneScape's best raiders and dedicated content creators who flew in from around the globe to get exclusive access to the Theatre and the developers behind it. Some of the testers were; B0aty, MMORPGrs, Mr Mammal, Zulu, Classix, DedWilson, Woox, Reed, and Dalek Cookie. This release also follows last month's "A Taste of Hope" which was the fourth part of the Myreque quest series, which will see players arrive at the Theatre of Blood, for this new challenge.
Mathew Kemp, Senior Product Manager, Old School RuneScape said:
"As always, we've collaborated closely with the Old School RuneScape community throughout the development of Theatre of Blood to make sure it was a worthy follow up to the game's first raid, The Chambers of Xeric. With such an emphatic vote backing the raid, we knew it was important to deliver a really engaging challenge for players looking to run the dangerous gauntlet of the Theatre. With the invaluable feedback of our community, pro-raiders, and content creators, we have delivered a blood-sucking raid worthy of the anticipation!"
Do all MMOs absolutely have to require a 1080 and an i7/i9? Of course not - not everyone has the same PC.
by Ragachak
Despite all the new game launches and betas going into the PAX West week, it looks like some free-to-play games are closing their doors.
by MissyS