Candidate Crunch Launches to Boost Voter Engagement with a Fun Twist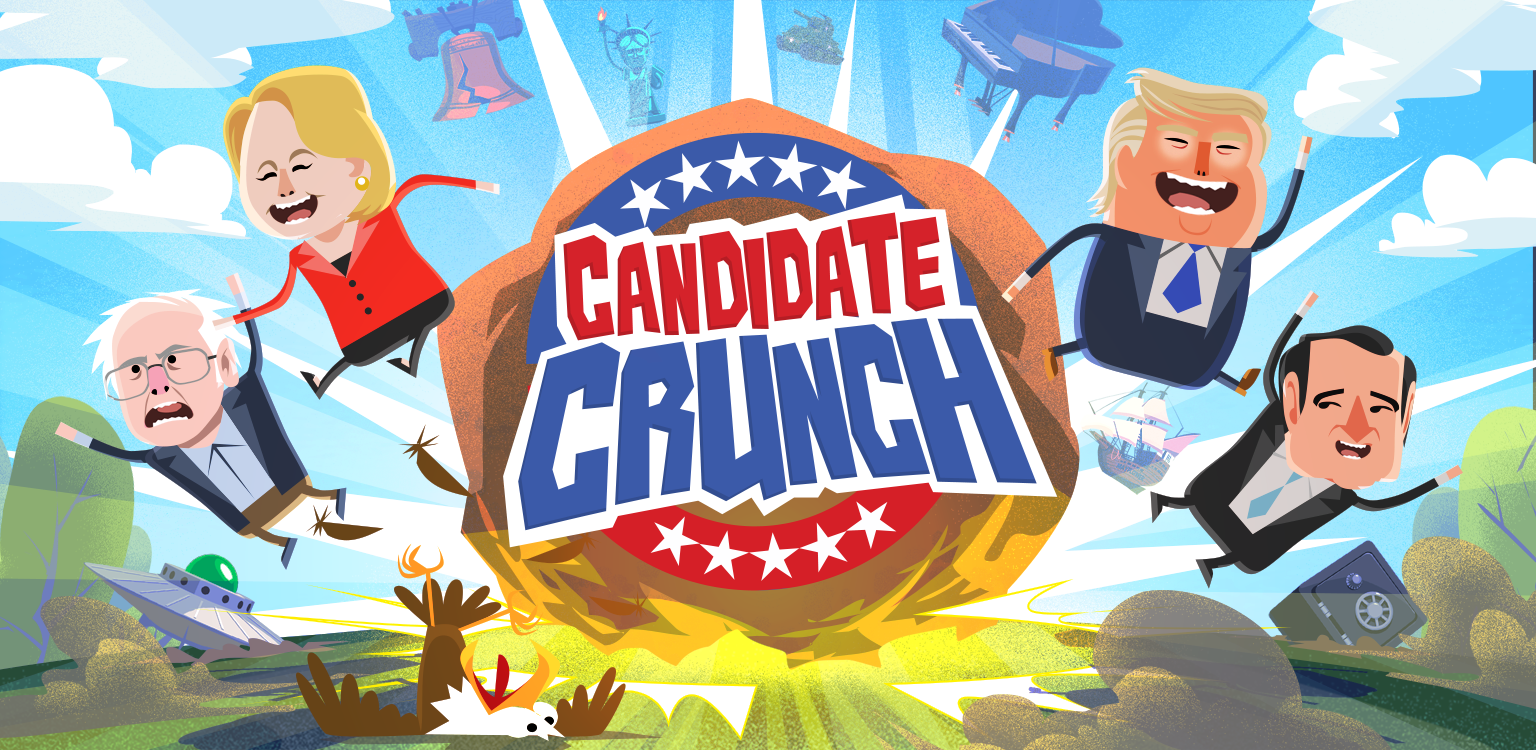 Over 180 million Americans play mobile games, but less than 126 million voted in the last presidential election*. Recognizing the opportunity to mobilize voters through the massively popular platform of mobile gaming, Urthworx, a leading creator of impact entertainment, today announced it has launched Candidate Crunch. It's a mobile game that's as wacky and unpredictable as the presidential election and a powerful first-of-its-kind voter engagement vehicle. In this irreverent and nonpartisan app, presidential candidates get saved from, or crushed by, hilariously absurd objects falling from the sky—donkeys, elephants, the Statue of Liberty, the Roswell UFO and, yes… even the kitchen sink! But it's not only fun, it also serves an important purpose. Throughout the app, players get access to easy-to-use civic engagement tools, including online voter registration, a polling place locator and an interactive forum to learn about the candidates' policy positions. Candidate Crunch is out now as a free download on the App Store and Google Play.
"Gaming is a powerful untapped tool to foster social change. When we saw that more Americans play mobile games than vote in presidential elections, we decided to create Candidate Crunch. It's an experiment to see whether an entertaining mobile game can drive meaningful engagement, particularly among new and hard-to-reach voters," said Michael Fox, Chief Impact Officer of Urthworx and the game's Producer/Creative Director.
Candidate Crunch is being launched in partnership with DoSomething.org and Rock the Vote. DoSomething.org is one of the largest organizations in the world for young people and social change with 5.3 million members. Its members tackle volunteer campaigns that impact every cause, including poverty, discrimination and the environment. Ten percent of Urthworx's revenue from the game will be donated to the organization to support its election initiatives.
What makes Candidate Crunch truly unique are its civic engagement elements. The app features Election Central, the only one-stop-shop for everything a voter needs to get ready for the election. Powered by Rock the Vote, Election Central features easy-to-use tools including online registration, a polling place locator and push notifications about important election events and deadlines. There's also a trivia feature with fun, interesting and actionable election-related questions. And, for the general election, the app will add an interactive forum where you can learn about the candidates' policy positions
Candidate Crunch stars all your favorite current and former candidates and features crazy collectible characters like SuperTrump, Goth Hillary, Headbanger Bernie, Count Cruz, Martian Carson and, of course, Little Marco. At launch, the game focuses on the primary race. When the final Democratic and Republican candidates are nominated at the conventions, the app will update to a one-on-one battle for the general election.
*Mobile gaming figures according to eMarketer, Feb 2016; voting figures from Bipartisan Policy Center.
Next Article
"We're celebrating TERA's anniversary this month and over the past 3 years, we've received many requests for TERA to be playable on St...
by DizzyPW
Catch Nosgoth's first three gameplay videos with commentary revealing Pysonix and Square's upcoming vampire versus hunter Battle Are...
by DizzyPW
Nexon has launched the open beta of KartRider Dash on Facebook.
by MissyS