C21 officially launches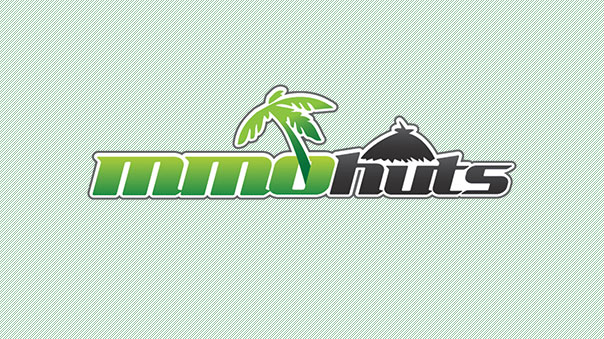 CyberStep, publisher of CosmicBreak, has officially launched C21 -Steel Battle Chronicles-.
To celebrate, all players will get a gift for every day they log until January 10. Players can also find experience, C$, and drops boosted on weekdays from 9pm to 11pm Pacific on weekdays, 4pm to 6pm Pacific on Saturdays, and 9pm to 11pm on Sundays during this time.
C21 is a third person shooter featuring customizable robots, aerial and ground combat, large maps, and more.
C21  Gameplay Screenshot

Source:
C21 –STEEL BATTLE CHRONICLES– BEGINS COMMERCIAL SERVICE

SAN FRANCISCO, CA – December 26th, 2011 – Online game developer CyberStep opens its latest Robot MMORPG, C21 –STEEL BATTLE CHRONICLES–, for commercial release today at 15:00 (PST), allowing users to explore the game's vast worlds, brimming with robots.

* C21 –STEEL BATTLE CHRONICLES– *
Official Website: http://www.c21-online.com/

CyberStep proudly announces the opening of C21 –STEEL BATTLE CHRONICLES– to commercial service today; players will be able to begin their adventures from 15:00 (PDT).

C21 –STEEL BATTLE CHRONICLES– is a unique MMORPG that is played from a 3rd person perspective and uses FPS controls to allow for fast-paced battles that will enable users to excel through their own personal skill, rather than their equipment.

Lots of exciting ways to fight, find one that suits you best!
Users will be able to engage in both aerial and ground combat on large maps that can host hundreds of enemies at a time, allowing for massive battles that will pit users against hordes of hostile robots. Utilizing the powerful robot creation system, users will be able to customize existing robots or build them from scratch. Create specialized role-specific robots or make a balanced build that allows you to deal with anything that comes your way!

Welcome Everyone Campaign
In celebration of the game's commercial release, CyberStep is holding a welcome campaign for all players, new and old. Users that log in every day will receive a thank you present for every day that they log in. C21 is also hosting a multiplier increase event where users that log in during the event times will find that their EXP, C$, and Drop rates have all been boosted. The rates and times are as follows:

Weekdays from 21:00 to 23:00 (PST)
Rates for EXP, C$, and drops multiplied by 1.5

Saturdays from 16:00 to 18:00 (PST)
Rates for EXP, C$, and drops multiplied by 2.0

Sundays from 21:00 to 23:00 (PST)
Rates for EXP, C$, and drops multiplied b 2.0

The Welcome Campaign begins on December 26th and ends on January 10th.
Make sure you take advantage of this event while it's still around!

In order to participate in the festivities, simply sign up at the official website and download the game for free!

Visit us at http://www.c21-online.com/

CyberStep is committed to providing users with an enjoyable game experience and will be using the feedback obtained during the beta testing period in order to apply adjustments and optimize the game system before launching commercially in December.
Next Article
The White Mantle makes itself known (once again!) in Kryta! Episode four of Guild Wars 2's Living World story has arrived.
by Outfoxed
Late adopters can finally buy their copy of the game.
by MissyS
Trion Worlds and XLGames has just recently annouced on their official website for ArcheAge that they are currently preparing new updates, patc...
by Mikedot