BanG Dream! Girls Band Party! First General Election Begins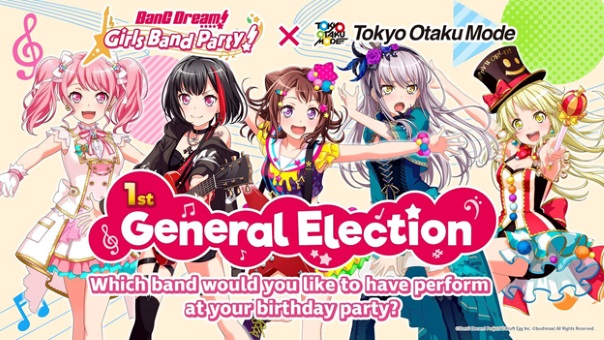 Fans of the BanG Dream! Girls Band Party! mobile game will now be able to vote on which band they would like to perform at their birthday party. The band that wins first place will be awarded with an original illustration of the band members going on an overseas vacation. Players will be able to acquire the in-game members from this illustration as well. It will also be used in original items created through Tokyo Otaku Mode (TOM) Projects that will be available for International purchase.
The election will be held from July 2nd to July 15th 11:59 PM (PDT) and the results will be announced on July 18th, 2018. Fans who tweet from the vote completion page will be entered into a lottery to win an autographed signboard (called "shikishi") from Aina Aiba, the voice actress for Yukina Minato of the in-game band Roselia. There will be three winners who will be contacted through a direct message from TOM's official Twitter account in August 2018. There will also be an in-game login bonus alongside this campaign, with both TOM and Bushiroad International promoting this campaign at their booths at Anime Expo in Los Angeles, California.
–       Voting Period: July 2nd (Mon) – July 15th (Sun) 11:59 PM (PDT)
–       Interim Results Announcement: Around July 9th (Mon) 10:00 PM (PDT)
–       Result Aggregation period: July 16th (Mon) – July 17th (Tue) (PDT)
–       Final Results Announcement: July 18th (Wed) (PDT)
–       Lottery Winners Announcement: August 2018
–       Original Illustration Announcement: TBA
GameClub has announced that Dragona will officially launch on Tuesday, January 3, at 2pm Pacific.
by MissyS
Joymax has launched the first major update for its newest MMO, Knight Age.
by MissyS