AxE: Alliance vs. Empire Releases Massive Content Update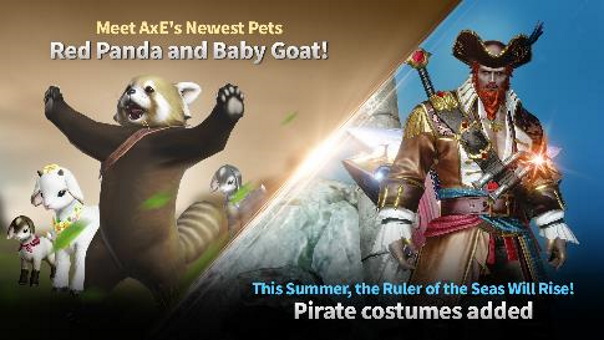 AxE: Alliance vs. Empire released a new update today that offers a new PVP mode, new companions, and so much more to the game. New companions have joined the game, and can tag along with you on your adventures. These include the baby goat and adorable red panda pets. They are available in four colors, and outfits. "Squad Strike" is the new PVP mode, and in this relay battle mode, teams of three do battle in turn-based combat. Spectating team members can take advantage of their position, by using debuffing skills on their foes.
There are also new Weapon Costumes to acquire, and they can be upgraded to enhance a character's strength. Player gear can reach a cap of level 25 now, and reaching this will offer up a special mystical effect. What would an update be without costumes? There are Pirate Costumes to unlock, and Special Events to tackle, where players are invited to do battle in event dungeons. The Enchanted Sea Mining Event will give Event Coins for Pet Upgrade/Pet Gear Upgrade Stones. Every completed event mission now rewards players with a special Fortune Ticket, that allows them to spin the wheel for valuable rewards.
Humanity embraces its next evolutionary phase while an existential war is waged on an unprecedented scale across the galaxy: at this year'...
by Mikedot
Destiny 2: Forsaken's Annual Pass begins today, with new content that offers new experiences for Guardians from December 2018 until Augus...
by Ragachak
As of January 22nd, 2019, Webzen's Shot Online will be available to the users of Steam, in a new partnership.
by Ragachak