Aurora Legend Begins Aurora Cup Event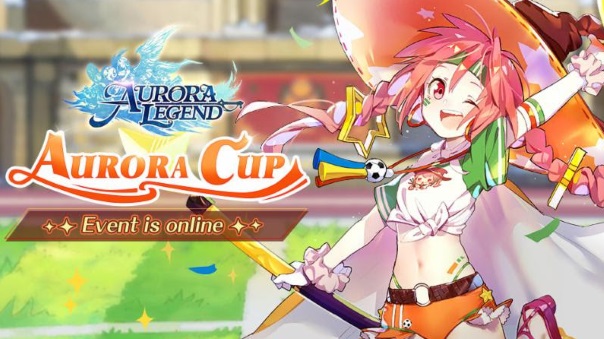 Aurora Legend officially brings back their popular sporting event, the Aurora Cup today, beloved by All Aurora. Players construct and maintain a stadium for the Championship, and by completing events, they will increase the construction progress, and also earn rewards. These events include a  Reward Event, Battle Event, and an Option Event. After obtaining enough building progress in the unlock event, the ultimate challenge mission opens, and the next phase unlocks. There are five building stages, and the story, events, and rewards are different at each stage. By completing the activity adventure, the head of the team will receive the "Grand Prize" from the North, which may be redeemed in the store.
After this, phase two begins, and heroes will challenge each other in combat by a system where they need two wins to gain victory. Players receive "Responsible Materials" and by donating these to the team they favor, they can improve the Battle Rating of said team. The leader should support the team so its combat strength will rise accordingly. The decision of the heads will directly affect the outcome of each game.
In the process of organizing the Aurora Cup in Snowland, heads of the delegations can use the event betting coins to contest the results of the event. A head has to return all the betting coins converted from event betting coins if he fails the contest, otherwise, he will gain betting coins with a certain winning ratio. Before the start of the quiz phase during each competition, players' betting coins will be converted into a 1:1 "Grand Prize." There will be a refresh on new items in the store with a limited purchasing amount reset. There will be several changes every time the store is refreshed, so please pay attention to the shopping time in order to not miss out on your favorite products. During the Aurora Cup Championship, King William will also reward the adventurers to heed the call to assist with a variety of special rewards through redemption in the event store.
In addition, the level cap increases from level 79 to level 90, and when players hit level 90, they can open Ascend level, and the Equipment Unleash system. Finally, there are new characters coming to the game: William, and Elwing, and skins for Phia, Abbadon, and Sunny.
Gazillion Entertainment has announced that Beast and Jubilee are now available in Marvel Heroes 2016.
by MissyS
this money will be spent to outsource animation design to a third party company who will implement roleplay friendly animations.
by DizzyPW
Monster Super League has released a new update, introducing a new rebirth Astromon, new Hermite guardian dungeon, and new events.
by MissyS