Armored Warfare Reveals Third Season, 'Moscow Calling'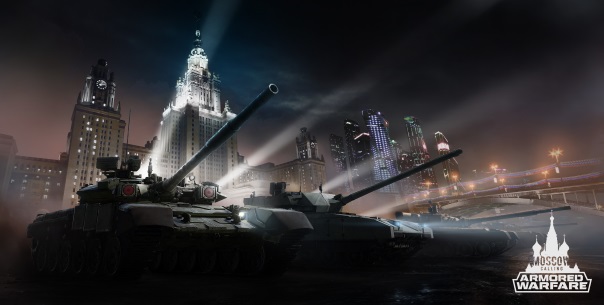 Magnus Holter's story isn't done yet – Armored Warfare revealed a third season today, called "Moscow Calling". Unlike previous seasons, this story is treated as a full story arc, and not split into two parts. It will have four new missions, achievements to unlock, and a special co-operative gameplay mode. "Moscow Calling" aims to offer the most challenging and exciting Armored Warfare content to date.
A great summit is called to Moscow, with a goal at making peace with the largest corporations on the planet once and for all. As a key player in the events of the last two years, we're invited to see what goes down. This update will add a new PVP Map, Moscow. It's based on one of the largest boulevards in Moscow, and armored vehicles will duke it out under the pale streetlights and the drizzling rain. Despite its city setting, the map will be fairly open with wide streets offering a lot of room to maneuver. Some areas such as tunnels and various construction sites, will, however, offer a lot of cover, making the map suitable for all kinds of vehicles.
One of the major changes to the game is adding more stuff to do after they have expanded their vehicle collection. There's the upcoming Battle Path campaign, and other activities/improvements to look forward to. One example is the new War Games mode, and there is also additional vehicle progression. Players can also receive improved contact mission rewards, to add more spoils to unlock. And last but most definitely not least, season three will be introducing several bug fixes and mechanics enhancements including commander progression systems, daily bonuses, smoke visuals, and the armor viewer.  More information can be found in the link below.
Trion Worlds today published a producer's letter announcing the first closed beta period for Devilian.
by MissyS
The War Effort is a brand new feature designed to reward players for completing daily quests in Heroes of Newerth.
by MissyS