The Alchemist Code and Phantom of the Kill Crossover Brings Serious Girl Power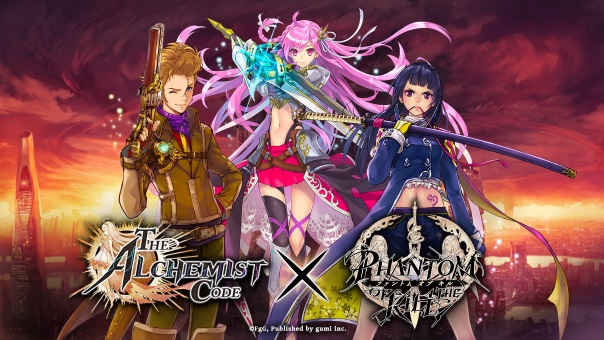 Powerful Princesses fashioned after legendary weapons from Phantom of the Kill are making their way into The Alchemist Code. Two of gumi's worlds are coming together in this exciting crossover. "The Alchemist Code x Phantom of the Kill" will offer exclusive heroes claimable as rewards in crossover quests. Tyrfing, the Cursed Blade has awoken in Babel and is seeking a commander. Clear the crossover quest to transmute Tyrfing and uncover her story as she finds her place in this new world (January 18th-February 7th)! Players can also do battle with the Killer Princess Masamune in a multiplayer quest in order to win her over. Defeating Masamune will bring you closer to recruiting her (January 25th-February 7th). Ouroboros will be free in a ten-stage story event, linking these stories together (January 18th-February 15th).
The Alchemist Code characters will also be coming over to Phantom of the Kill, from Ouroboros, Chloe, and Rosa, as well as exclusive gear to unlock the Princess' Master abilities. Get Phantom of the Kill-exclusive gear in THE ALCHEMIST CODE by summoning or transmuting them from Gear Shards collected in the Crossover Quests! Unlock the Killer Princesses' Master Ability by equipping their legendary weapon gear—every Killer Princess has her own accessory of power and weapon of mass destruction! There will, of course, be crossover rewards in the form of Masamune Soul Shards, Job Tokens and Gear Shards by continually achieving milestone targets.
Next Article
Starfall Tactics will be holding a pre-beta test as well as a PVP tournament with a livestream in the near future.
by Ragachak
After spending time going over the feedback from their CBT, VALOFE is ready to show off what they learned from their fanbase.
by Ragachak