We've partnered with IGG to celebrate the addition of the Artifact System to Lords Mobile with a special giveaway and code!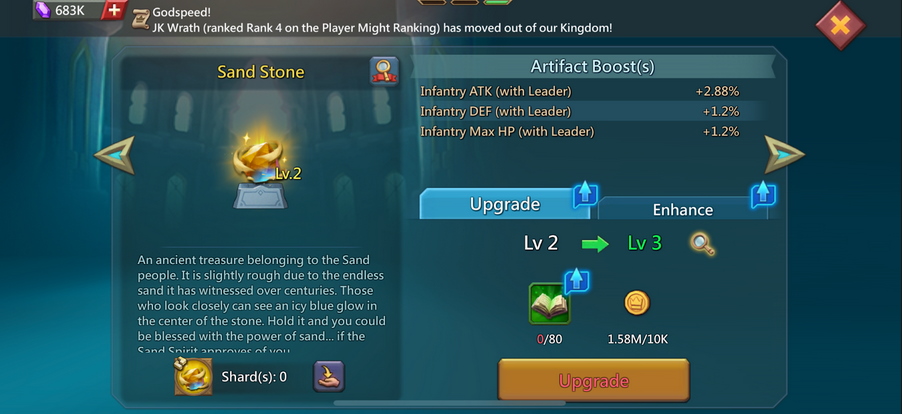 Battle in a world of chaos in Lords Mobile, the latest real-time strategy game from IGG. The true Emperor has fallen. We need a real hero, a true Lord who can unite the Kingdoms. Recruit heroes from various backgrounds, from dwarves and mermaids to dark elves and steampunk robots, and assemble your army in this magical world! Fight and conquer to establish your empire! The world is yours for the taking, only in Lords Mobile!
Recently the Artifact System has been introduced to Lords Mobile! A new building, Artifact Hall, will take you through the past and teach you about these ancient treasures!You can commission merchants to bring artifacts like a dwarf's mallet, dragon scales, goblin wings, and more, in the Artifact Fair to expand your catalog of artifacts, and upgrade each artifact to enhance your battle capabilities, resource production!
To celebrate the launch of this new system, we've also got a special code for you!
Code: 2022ARTIFACT
Use this code before 05/31/2022 (GMT-5) to get your Artifact Coins and enjoy the game
Check out details below for another giveaway code bundle you can claim as a new player!
---
Your Code Contains:
Black Crow *10
[Common] Hero Chest *50
[Rare]Material Chest *50
Noceros Chest *30
Gryphon Chest *30
Anti-Scout (8 h) *5
Shield (8 h) *5
Braveheart *1
Random Relocator *5
100 VIP Points *3
Quest Scroll (Admin) *10
Quest Scroll (Guild) *10
Training Boost (10%) *1
Research Boost (10%) *1
Build Boost (10%) *1
Gather Boost (100%)(24h) *1
25% Player EXP Boost *1
Speed Up Training (10 m) *30
Speed Up Research(10 m) *30
Speed Up (10 m) *30
Special Notes:
This code works for new players only
Only one key can be used per user/IGG ID
Available regions: Global
Please redeem the code within 24 hours of user registration.
To Redeem Your Code:
Enter your IGG ID and key in the Redemption page
How to find your IGG ID: Tap the Gear icon at the bottom-right corner of the screen in-game, then tap the Accounts button to check your IGG ID.

Giveaway is no longer active.