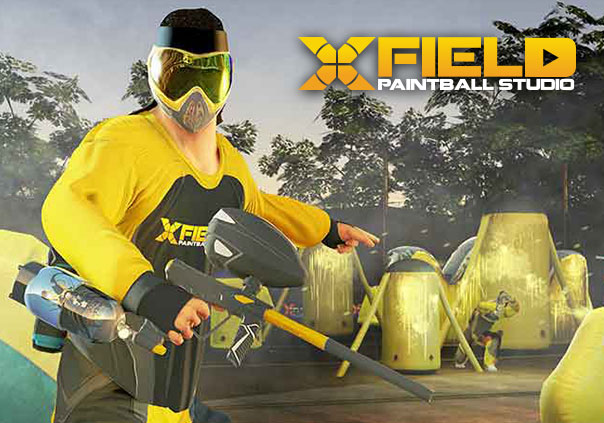 XField Paintball 3 is a buy-to-play multiplayer paintball game developed by XField Paintball SAS for PC and is available for purchase on Steam. In XField Paintball 3 players can experience truly tactical paintball gameplay in a community-driven environment.
XField Paintball 3's proprietary paintball physics engine makes shooting a paintball more realistic than ever. As you fire away at your opponents your paintballs will accurately fly through the air as friction and flight time are taken into account. Parabolic motions of paintballs in flight are also factored in, meaning you won't be able to just fire in a straight line at your opponents. You'd better be ready to learn how real paintballs fly if you want to survive in this game!
There are currently 4 playable maps and a scenario map available in the game with more coming as the development process continues. Many of the maps have strategic elements that you will need to take advantage of like bunker placement to help your team come out on top. Some maps have even been modeled after real-life professional paintball maps, meaning they're ripe and ready for international competition and will really bring out the depth of playing paintball.
The main game mode is a 5 versus 5 match where players will play to eliminate the opposing team, but the team sizes can be manipulated from 1 versus 1 to 5 versus 5 depending on the availability of players. This means less time spent queueing and more time spent playing for you! More game modes are planned to be developed as the game grows.
If you've been waiting for a realistic paintball game, XField Paintball 3 just might bring that wait to an end. With realistic paintball physics and maps based on professional layouts you can be sure to satisfy that paintball itch you've had for oh so long!
Status: Released
Release Date: May 30, 2017
Business Model: Free to Play
Developer: XField Paintball SAS
Publisher: XField Paintball SAS
Category: Stand-alone
Genre(s): 3D, Shooter, Sports, Simulation
Platforms: PC, Steam

Pros:

+Realistic strategies.
+Decent graphics.

Cons:

-Small player base.
-Clunky mechanics.
-Frequent server issues.



Recommended System Requirements:

OS: Windows 10
CPU: Intel i5
RAM: 8 GB
GPU: Nvidia GTX 770
HDD: 1 GB