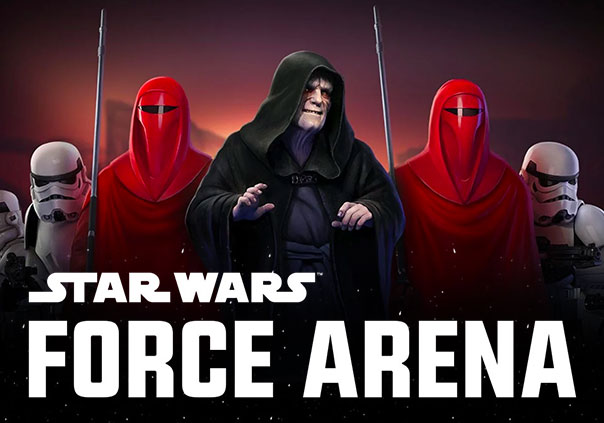 Star Wars: Force Arena is a free-to-play multiplayer strategy game developed by Netmarble Games for Android and iOS. in Star Wars: Force Arena players can lead a team of iconic Star Wars characters in real-time, exhilarating battles against other players on a worldwide scale. Battles will take place in real-time 1v1 or 2v2 matches where players will fight to eliminate enemy leaders and destroy the opposition's base.
You can make your team from a roster of over 60 upgradeable characters and units, each of which has their own fighting styles to exploit. The characters that become available for you will depend on whether you join up with the Empire or the Rebellion. Utilizing character-relationships like Chewbacca and Han Solo will also play an important role in battles, giving you the chance to boost their effectiveness in combat. By leveraging such legendary duos on your team you'll be able to gain an advantage over your opponents. Even vehicles can be used to help your team to secure victory, so you'll be sure to find the right cards to fit your playstyle. If you're feeling exceptionally gutsy you can participate in limited time events to try and earn exclusive rewards like items and characters.
Star Wars: Force Arena also includes a singleplayer campaign where you can learn how to play while following along with a solo story. After all, what could be better than showing off that exclusive character you earned by using them to wipe the floor with your opponents? Singleplayer training mode can also be used to practice your skills and try out new team compositions before taking your deck into a PvP match.
Form your elite squad of iconic Star Wars characters, lead them into battle, and master the arena in Star Wars: Force Arena.
Status: Released
Release Date: May 03, 2017
Business Model: Free to Play
Developer: Netmarble Games
Publisher: Netmarble Games
Category:

Mobile

Genre(s):

3D, MOBA, Sci-Fi, Strategy

Platforms:

iOS, Android


Pros:

+Many recognizable characters.
+Pleasing graphics and visuals.
+Useful trading system.

Cons:

-Expensive premium boosters.
-No friends system.
-Some matchmaking issues.





Description: Star Wars: Force Arena is a multiplayer strategy game where players can lead their own team of iconic Star Wars characters into real-time PvP battles. Join the Empire or the Rebels, build your team from a roster of over 60 characters, and show the opposition what you're made of!
Today, a new update arrives in Rusty Hearts, along with a new playable avatar.
by MissyS
JamesBl0nde streams every Friday for MMOHuts on Twitch!
by MissyS