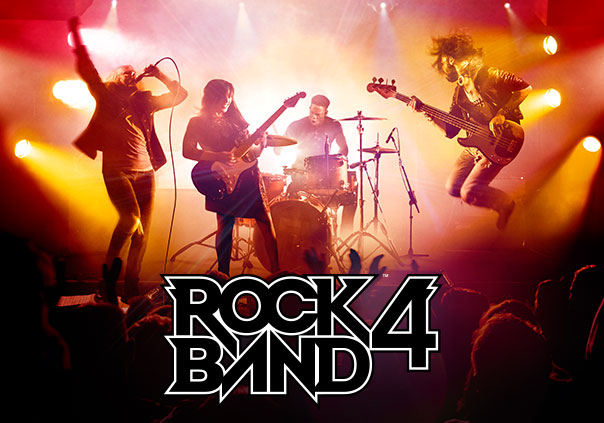 Rock Band 4 is a band simulation game being developed by Harmonix available for purchase on the Xbox One and PS4. In Rock Band 4 players can jam out to a soundtrack of over 60 new songs and a catalog of over 1,500 different songs alongside their friends, playing as the vocalist, drummer, guitarist, or bassist by using a corresponding instrument-controller.
What makes Rock Band 4 unique from its predecessors is that its campaign mode is the first Rock Band campaign where choices can be made that will influence the venues your band will play at, the songs you will play, and the gear you will unlock. Ultimately you will decide your band's path to fame and what kind of band you truly are!
Freestyle sections are a new implementation of the Rock Band series as well, allowing players to add their own artistic flair to some of their favorite songs with Freestyle Guitar Solos, Drum Fills, and Freestyle Vocals. Freestyle sections are loosely guided in terms of strumming speed and how high of a note you generally will need to play, but the rest is in your hands!
The first expansion released for Rock Band 4 called Rock Band Rivals was released on October 18, 2016 and introduces two new game modes: Rivals and Rockudrama. In Rivals players can form Crews with up to 10 total players and put their collective, asynchronous scoring of songs up against other Crews' performances. Crews can compete across ranked tiers for even more fame and participate in weekly challenges. The Rockudrama game mode uses live-action footage as part of the song narratives and gives players a chance to earn Fame. Fame is earned with stellar performances and will help players unlock new venues to play further Rockudrama games in.
Play your way to fame by shredding in your own unique way in this exciting installment of the Rock Band series!

Status: Released
Release Date: Oct 06, 2015
Business Model: Retail
Developer: Harmonix
Publisher: Harmonix
Category: Stand-alone
Genre(s): 3D, Simulation
Platforms: Xbox One, PS4

Pros:

+Massive selection of songs.
+Supports both previous instruments and DLC!
+Freestyle instrument sections.

Cons:

-No particularly new features or content for the series.