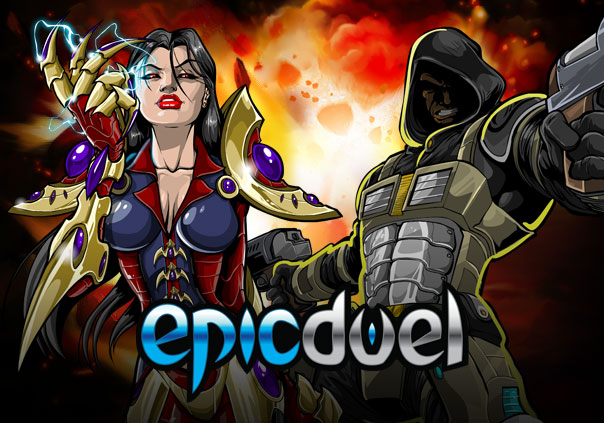 EpicDuel is Artix Entertainment's most PvP oriented RPG to date. The game is set in the distant future on a world known as Delta V. The art style and turn based combat are in the same fashion as previous BattleOn games, but this time PvP takes center stake. Players will be able to jump into 1v1 or 2v2 duels using the game's auto arrange system from any map. There are some NPCs scattered around the world which players can challenge, but this servers as a minor distraction. Achievements, player run factions (guilds), and player housing add some replay value, but this is definitely one of those games best enjoyed in short busts.
Classes:
Mercenary – Powerful, but slow fighters capable of dealing heavy damage. Mercenaries use clubs and other mainly blunt melee weapons. They are comparable to classic RPG Warriors.
Bounty Hunter – Striking a balance between skills and physical attacks, Bounty Hunters make use of mounted wrist blades and other piercing weapons. They are the Rogues of EpicDuel.
Tech Mage – Equipped with magical staffs, Tech Mages are the wizards of EpicDuel. They possess energy based skills.

Status: Released
Release Date: Dec 02, 2009
Business Model: Free to Play
Developer: Artix Entertainment
Publisher: Artix Entertainment
Category:

Browser

Genre(s):

2D, RPG, Sci-Fi, Strategy

Platforms:

PC


Editor's Score: 4/5

Pros:

+Simple gameplay, suitable for all ages.
+Detailed character creation and growth options.
+Entirely PvP oriented, fight in 1v1 and 2v2 duels.

Cons:

-Repetitive, slow paced combat.
-Could use more players for matchmaking.
-Questing can be confusing.



Requires web browser with latest version of Flash plugin.


Description: EpicDuel is a 2D browser based MMORPG with a futuristic setting. Choose from one of the three classes and battle against other players in 1v1 and 2v2 duels. Develop your character's skills and stats as you level, and purchase new weapons. Players can also challenge NPCs to battles.
Today, Shadowverse has announced that it will launch on June 17 across multiple regions on iOS and Android.
by MissyS
Forge is an unusual beast. When you have a game that steals gameplay elements from both the FPS and the MMORPG, MOBA is the result.
by Hhean
KOG Games' latest MMORPG begins a limited-time Closed Beta today, and it will run until February 24th.
by Ragachak