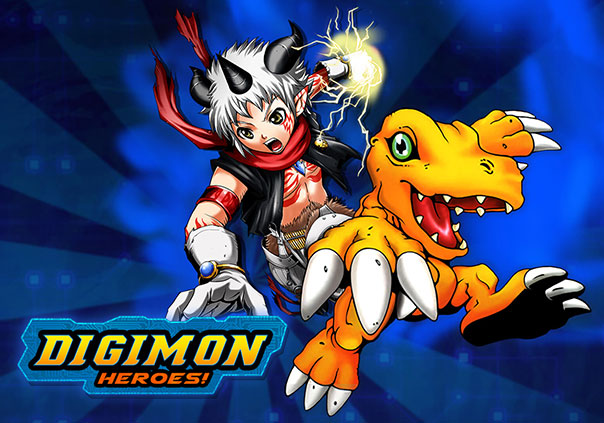 Digimon Heroes! is a free to play mobile card game developed by BANDAI NAMCO for iOS and Android where players can collect and battle with more than 1,000 of their favorite Digimon characters!
You will need to assemble a team of 3 of your best digital monsters if you want to be able to conquer anyone and anything on File Island. Opponents can be taken on in duels, pitting one Tamer's Digimon against another's. By matching cards in your deck and chaining them together in powerful combos you can create devastating attacks that will destroy even the fiercest of competitors. Regularly hosted special events and epic battles will give you even more things to look forward to in the future, giving you a chance to obtain some rare Digimon to show off to your friends.
Your Digimon can be upgraded in a variety of ways to bring their power to the next level and help you become even stronger as a team. Digifusing Digimon together can combine their powers, Digivolving them can turn them into even stronger forms of themselves, and breaking their limits can help them realize their true potential.
Battle against the best and prove your worth to become one of the few digital legends in the world!
Status: Released
Release Date: Jan 28, 2016
Business Model: Free to Play
Developer: BANDAI NAMCO
Publisher: BANDAI NAMCO
Category: Mobile
Genre(s): 2D, RPG, Fantasy, Strategy
Platforms: iOS, Android

Pros:

+Over 1,000 Digimon!
+Many options to enhance Digimons' power.
+Special battles and events.

Cons:

-Lack of story.
-No competitive play.
-Microtransactions make less sense without PvP.



Recommended System Requirements:

OS: Android 4.0.3+ OR iOS 7.0+
HDD: 78.6 MB