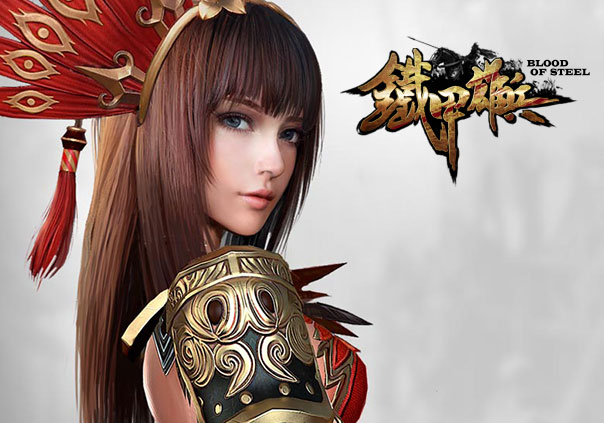 Blood of Steel is an action strategy MMO developed by CloudToad Games for PC that is currently supported in Chinese and has an English version being developed. In Blood of Steel players can assume control of different legendary commanders that each have their own distinct weapons and personalities, leading their troops to victory against other players by any means necessary.
Blood of Steel gives players the chance to battle each other on a worldwide scale in the setting of the Three Kingdom period in Chinese history. The ancient western world will be revived right before your eyes as you use cold weapons and ancient strategies to deliver blows to your opponents. Battles are conducted from a third-person perspective in arena-like maps where two teams of five players will duke it out with one another, each individual player being allowed to lead up to 40 AI soldiers! The 5v5 match types are Siege & Defense or Control, and there are even larger 10v10 match types like Death Match and Flag Capture.
Archers, cavalry riders, swordsmen, spearmen, crossbowmen and more can be controlled by players. Each type of unit has its own strengths and weaknesses, giving players the ability to strategize together with their unit types. Movement speed will also play a factor in the effectiveness of attacks, like slashing an enemy while riding on horseback as opposed to slashing at them while running on the ground.
Strategy won't just take the form of differences in units either. Terrain will play an important role in your success as well! Shifting armies around from high to low ground and doing so between all players will test your attunement to the battlefield and your decision-making skills as a commander. So get out there and show the opposing commanders that they need to respect your battlefield prowess!
Status: Released
Business Model: Free to Play
Developer: CloudToad Games
Publisher: CloudToad Games
Category:

Stand-alone

Genre(s):

3D, MMO, Fantasy, Strategy

Platforms:

PC



Recommended System Requirements:

OS: Windows XP or later
CPU: Intel Core Quad 2GHz
RAM: 4 GB
GPU: NVIDIA GeForce GTX650/AMD HD7850
HDD: 4 GB



Description: Blood of Steel is an action strategy MMO where players can assume control of different legendary commanders, leading their troops against opposing players. Unit types, coordination, movement speed, terrain and more will all need to be taken into account for your master plan to succeed.