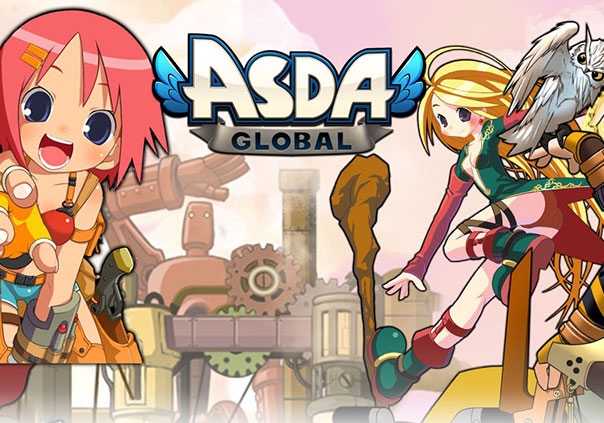 ASDA Global (Asda 2) is a free-to-play fantasy MMORPG developed by GamenGame for PC. In ASDA Global the fragile truce between Light and Dark factions has been broken and the once peaceful land of Asda has been plunged into chaos once again. Factions and gods are at war once more, and now you must choose a side!
In ASDA Global players can explore the world of Asda, an anime-inspired world, beginning their journey in the capital city called Alpen. Characters can be created from one of eight different classes and their appearance can be customized in a few different ways. While you explore your way through the world you can go on quests by yourself, take your soulmate along with you, and even bring pets along to keep you company and fight by your side.
ASDA Global is filled with things for you to do aside from merely exploring. Take part in fast-paced PvP duels, or join your brothers-in-arms in large-scale faction wars. If you've got a flair for the more aesthetic things in life dress up your character and show off your garb. Maybe you just can't seem to get rid of that treasure hunting itch! Don't worry, you can dig for treasure, get gems, acquire crafting materials, and reap other rewards from your efforts!
Now that the forces of Light and Dark are at odds you're surely going to want to be on the winning side. Answer the call-to-arms and fight for your chosen side in ASDA Global!
Classes:
One-Handed Sword Warrior – These warriors use a sword and shield to tank for their allies, boasting the most physical defense of all classes .
Two-Handed Sword Warrior – These warriors wield heavy, two-handed swords to deal powerful blows to enemies and lower their defenses.
Spear Warrior – This kind of warrior uses a spear to deal fatal blows to enemies and specializes in stealth, speed, and critical hits.
Crossbow Archer – These archers specialize in burst damage skills and stunning enemies. They are capable of dealing the highest immediate burst damage in the game.
Bow Archer – Bow Archers use their bow and traps to impede the enemy's movement and cause them to bleed.
Attack Mage – This type of mage uses the powers of fire and darkness, attacking from the distance.
Support Mage – This mage class uses the powers of earth and water, supporting their allies with buffs and magical shields.
Healing Mage – These mages use the powers of light and climate, using healing and resurrection techniques to keep allies safe.
Status: Pre-Release
Release Date: May 19, 2018
Business Model: Free to Play
Developer: GamenGame
Publisher: GamenGame
Category:

Stand-alone

Genre(s):

3D, MMO, RPG, Fantasy

Platforms:

PC


Pros:

+Class variety.
+Character customization.
+Worthwhile soulmate system.

Cons:

-Gameplay can get repetitive.
-Dated graphics.



Recommended System Requirements:

OS: Windows XP or later
CPU: Pentium 4 1.6 GHz
RAM: 1 GB
GPU: VGA Nvidia Geforce FX 5200/ATI Radeon X300



Description: ASDA Global (Asda 2) is a free-to-play fantasy MMORPG where players can customize their own character and explore an anime-inspired world. Fight in PvP Duels, dig for treasure, collect pets, and possibly even find your soulmate!