UPDATE: This game has been shutdown and is no longer available
Secret of the Solstice is a 3D Fantasy MMORPG. The game is set in the large fantasy kingdom of Xen. Secret of the Solstice has a large variety of playable classes, a unique graphic style and some interesting content. If you're looking for a new game to try, Secret of the Solstice is well worth checking out.
Publisher: Outspark
Playerbase: Medium
Graphics: Medium Quality
Type: MMORPG
EXP Rate: Medium
PvP: Arena / Event only
Filesize: 1640 MB
Pros: +Unique graphic style. +Plenty of playable classes and job promotions. +Helpful tutorial. +Great background music. +Good interface.
Cons: -Repetitive combat. -Text is blurry and hard to read. -Limited PvP options.

Overview
Secret of The Solstice Overview
Secret of the Solstice is a 3D (with 2D Sprites) Fantasy MMORPG by Outspark. Like most MMORPGs, the game has anime-inspired graphics, but the game's overall look is certainly unique.  The game's graphics  and gameplay were certainly inspired by similar titles like like Ragnarok Online and Angels Online, but Secret of the Solstice still has its own unique features as well. If you're looking for a new game to play, Secret of the Solstice is certainly worth checking out. Players start their adventure in the game's world as a classless Xenian and can advance to one of the game's four job advancements at level 16.  The game's four first job advancements are:
Squire - Squires are the generic 'warrior' class in Secret of the Solstice. They have strong melee attacks and high defensive capabilities but have weaker skills than the other classes. Squires can become Knights at level 66, Warriors at level 96 and Warlords at level 131.
Apprentice - Apprentices are the generic offensive spell casting class in Secret of the Solstice. They can deal massive damage with their spells, but are vulnerable in melee combat as they have low armor and hit points. Apprentices can become Mages at level 66, Wizards at level 96 and ArcMages at level 131.
Neophyte - Neophytes are the generic 'Thief' class in Secret of the Solstice. They have powerful attacks but tend to have low hit points and defense. Neophytes, unlike Squires and Apprentices, have two job promotion trees they can choose. They can become melee oriented Thieves or ranged Archers. Each of the trees have their own respective job promotions.
Acolyte - Acolytes are the generic Priest/Paladin-like class in Secret of the Solstice. They have powerful healing and supportive magic, as well as decent melee skills. Like the Neophyte they also have two job promotion trees they can pursue. They can choose to become all-out 'healers', or opt to become more melee-oriented Holy Avengers.


Secret of The Solstice Screenshots
Secret of The Solstice Featured Video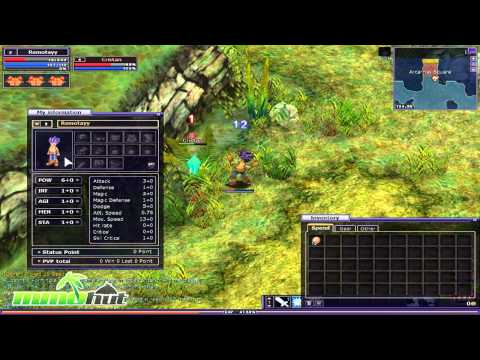 Full Review
Secret of The Solstice Review
By, Omer Altay
If you haven't heard of Secret of the Solstice before you're probably not the only one. Secret of the Solstice is another one of those 'under the radar' free MMORPGs that are surprisingly good. The game has an interesting art style, a good XP rate and enough variety to keep players hooked. Another small thing I like about the game is that it's published by Outspark. I'm a big fan of Outspark's website, probably because they've done a great job to date keeping their games updated and hackers away.   Anyway, on with the review!
First Impressions
The absolute first thing that popped into my head after logging into Secret of the Solstice is 'Wow this looks far too much like Ragnarok Online to be a coincidence!' The game seriously looks almost identical to Ragnarok, with only a few minor things changed. There are actually quite a bit of free MMORPGs out there that drew their graphical inspiration from Ragnarok. Games like Water Margin Online and Tales of Pirates for example were definitely inspired by Ragnarok Online. I don't blame the game's developers for modeling their game after an incredibly successful one.  In fact, I'm glad they did it, as Secret of the Solstice simply looks gorgeous. The game's environments and character models look great and the overall gameplay is incredibly fluid, which makes playing the game an incredibly enjoyable experience.  One interesting thing that Secret of the Solstice did that I'd like to see other games do is have an NPC in the middle of town named 'Solstice Guide' that outlined the basics of the game. The NPC also provided free 'milk' to newbies which were simply HP potions. The milk was actually surprisingly helpful, as it's incredibly hard to earn enough money to purchase skill books and potions during the early parts of the game.
Core Gameplay
Unfortunately, the core gameplay in Secret of the Solstice is much like every other MMORPG. The game really doesn't do too much to try and innovate or revolutionize the genre, which can be looked at as both a good thing and a bad thing. If you've new to the MMORPG scene you probably prefer something simple, but if you've already played a dozen or so MMORPGs, you're probably in the market for something a bit more unique (like Atlantica Online or Runes of Magic). Even though Secret of the Solstice's core gameplay is generic, it's still a genuinely good game that's worth checking out. All players start their adventure in the game as classless 'Xenians' and must reach level 16 before they can choose their first 'job'. The game has four starting jobs and each one of those has at least three job promotions at later levels. I have a small complaint with the game's attribute system, as it simply feels too slow.  Each new level rewards players with only a single 'stat point', and since the game has six attributes, it just doesn't feel right to get only one 'stat point'.


Fix THIS! NOW!
My single biggest complaint with Secret of the Solstice is the game's ridiculously blurry and hard to read font. Every time I need to read something on the game's screen I have to move myself real close to the monitor just to be able to make out the words on the screen. You'd imagine that something so obvious would have been addressed by now, but the problem has been around since the game's launch in late 2007. If you're one of those gamers that like reading through quest text, I feel sorry for your eyes, as they're going to be quite strained every time you log into Secret of the Solstice.
Last Minute Thoughts
Secret of the Solstice had a lot of small good and bad details that are worth mentioning. The game has a solid questing system that was rewarding. Unlike other MMORPGs that have quests that force you to play the 'fed ex' delivery guy (going back and forth between NPCs… Get it? Hah), Secret of the Solstice has a feature that automatically moves your character for you whenever a quest demands it. I'd like to see the game expand on this and allow players to automatically move their characters to any NPC in town, sort of like the 'path finding' feature in Zero Online and Conquer Online.
One aspect of Secret of the Solstice that I disliked quite a bit was the game's lack of PvP options. If you're looking for a game that's big on PvP, this is certainly not a game for you, as players can only participate in PvP during special 'PvP arena' events. The game's publisher has said on numerous occasions that more PvP elements are 'currently being developed', but as it stands the game has minimal PvP.
Final Verdict – Good
Although Secret of the Solstice isn't anything revolutionary the game is still genuinely fun. The game's graphics are incredible and the gameplay is extremely fluid. The game however has very limited PvP options and only a medium sized community. If you're looking for a new game to try though, and have already played all of the 'well known games', Secret of the Solstice is definitely worth trying.

Screenshots
Secret of the Solstice Screenshots
Videos
Secret of The Solstice Videos
Secret of the Solstice Official Trailer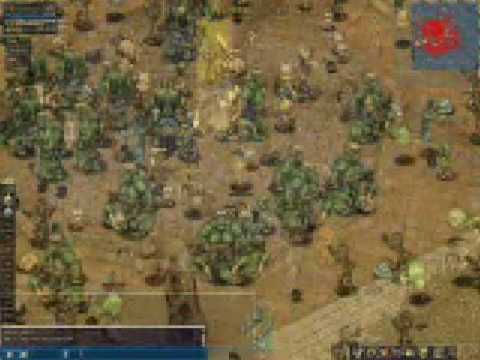 Secret of the Solstice Gameplay Video 2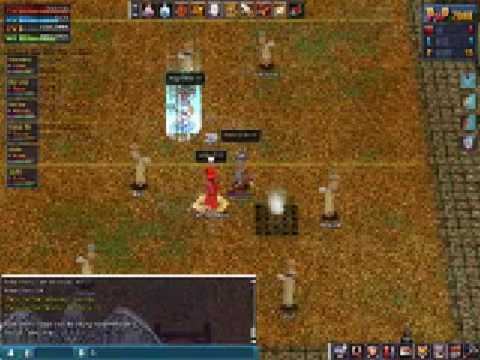 Secret of the Solstice PvP Video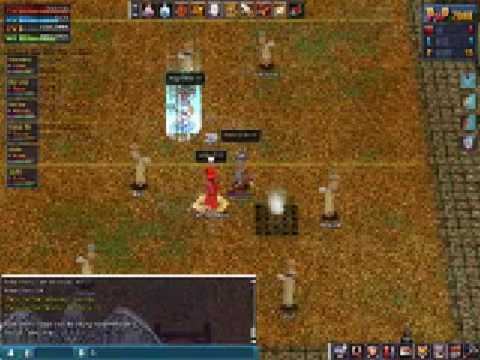 Secret of the Solstice Featured Video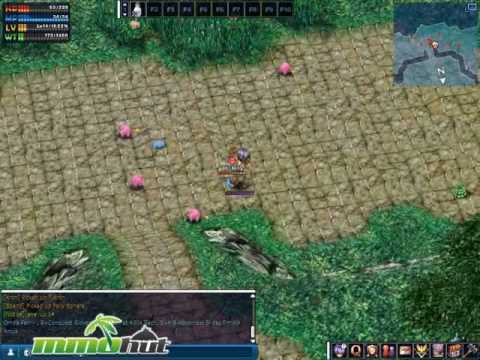 System Requirements
Secret of The Solstice System Requirements
Minimum Requirements:
OS: Windows XP / Vista
CPU: 1.0 GhZ Pentium 4 or Equivalent AMD processor
RAM: 256 MB Memory
HDD: 2.0 GB Free
Graphics Card: Nvidia Geforce MX or equivalent

Recommended Specifications:
OS: Windows XP / Vista
CPU: 2.0 GhZ Pentium 4 or Equivalent AMD processor
RAM: 512 MB Memory
HDD: 2.0 GB Free
Graphics Card: Nvidia Geforce Ti or Radeon 9200