World of Warships Introduces German Tech at Gamescom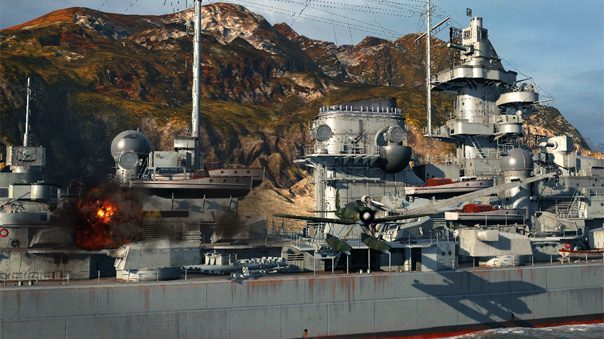 Wargaming today announced that the German Tech Tree is preparing to cast off for World of Warships. This new lineup will set sail in October, with visitors to this year's Gamescom getting exclusive hands-on experience with famed German warships, including the iconic Dresden and Admiral Hipper, far ahead of their release.
The World of Warships zone within the massive Wargaming Gamescom booth will be the only place where players can test the versatility of the Dresden and Hermelin cruisers, as well as discover the might of the Bismarck and Tirpitz battleships. Visitors will also get the chance to see how these warships operate while pitting them against other nations already in game for the very first time.
The German cruisers making their in-game debut boast remarkable endurance, especially at higher tiers, making them great for surviving tough encounters. Heavy German cruisers also feature solid armor and devastating weaponry fitting for any battle at sea. The German line has strong penetration, but even better damage per minute and outstanding missile velocity, which makes for an intimidating force in close-range combat.
"The World of Warships team is really excited to be adding the German national line into the game," said Danila Volkov, World of Warships Development Director. "German shipbuilding has produced truly daunting and diverse warships. These vessels open up a whole new set of tactics for players and add additional depth to gameplay."
The World of Warships Open Beta saw over two million prospective captains engage in thrilling naval warfare on the high seas with players around the world averaging 190 minutes or 12 battles per day. Of the dozens of ships offered, player favorites included aircraft carrier Langley, battleship Michigan, cruiser St. Louis and destroyer Wakatake.
To stay up-to-date with all the latest developments, visit the official website.
A new adventure is being released by JOYHUBs. Treasure Island is a Strategy RPG that will allow players to create heroes that fight in an aren...
by Mikedot
Perfect World Entertainment has released a new trailer for fans of Jade Dynasty.
by MissyS
German online games publisher InnoGames today launched its classic strategy game Tribal Wars as a canvas app on Facebook.
by MissyS