Wars and Battles Unlocks October War 1973 Campaign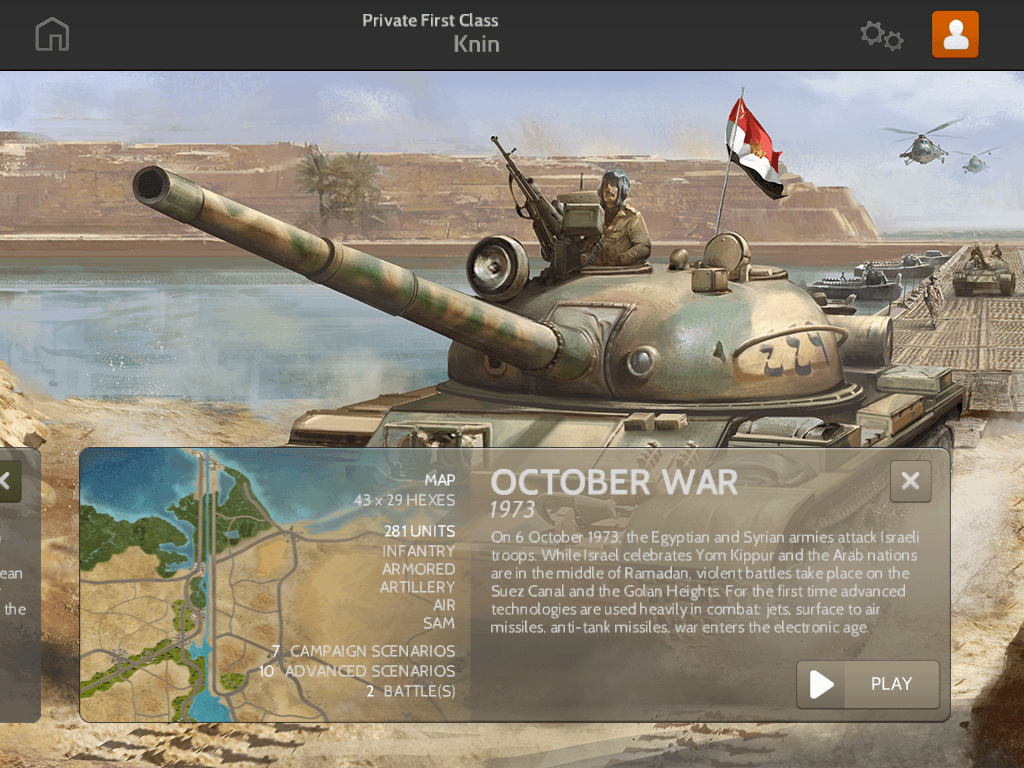 Paris-based game studio Battle Factory and publisher Kermorio S.A. have today released the October War 1973 campaign for their wargame, Wars and Battles. Previously only available for Apple's iPad, Wars and Battles is now also playable on Android tablets. PC and Mac versions are pending, along with support for cross-platform multiplayer.
Wars and Battles delivers the complexity and depth of tabletop wargames to tablet devices, offering an intuitive and user-friendly interface suited for strategy game newcomers and veteran armchair generals alike. Featuring rich graphics and challenging turn-based gameplay in either 2D or 3D modes, Wars and Battles lets players recreate or defy the outcomes of history's most epic engagements.
Wars and Battles currently includes two campaigns: Normandy 1944 (playable as Axis or Allied forces) and October War 1973 (playable as Israeli or Arab Alliance forces). Both campaigns may be enjoyed against a challenging AI or online via multiplayer. Additional Wars and Battles campaigns are planned for periodic release and each will offer a significant number of complementary scenarios, along with advanced scenarios available as optional in-game purchase.
Designed with a high standard of realism and a tabletop-inspired rule system that takes into account historical circumstances and modes of warfare, Wars and Battles has been meticulously designed by a team with decades of combined game development and wargame design experience. This includes wargaming veterans Nicolas Stratigos (Editor-In-Chief of the famous wargame magazine, Vae Victis) and Frederic Bey (a Napoleonic era expert and author of the Jours de Gloire series, based on Napoleon's conquests).
The War and Battles' October War 1973 campaign was designed by Pierre Razoux, the Paris-based Research Director of the French Institute for Strategic Research / Ecole Militaire (IRSEM). As a recognized specialist on the Middle East and the Arab-Israeli Wars, Razoux shared his expertise with Battle Factory.
October War 1973 depicts Israel facing off against the combined Egyptian and Syrian Armies, following a surprise attack during the Yom Kippur holiday. Lasting only twenty days, the October War is notable for its historical impact across the Middle East, and the extensive use of (at the time) state-of-the-art military technologies, including surface-to-air missiles and sophisticated anti-tank weapons. Players can choose to play as Israel, facing overwhelming allied Arab forces, or take advantage of the element of surprise by playing as the Egyptian and Syrian coalition.
Next Article
Wargaming today announced that Update 1.2 for World of Warplanes is now live in Russia and will be available in Europe and North America on Ma...
by MissyS
LYN: The Lightbringer has a new season of content launching today, that will offer several fun new features.
by Ragachak
Combat Arms will be adding the winning design of a community map design contest this February.
by MissyS