Vindictus Welcomes Hero Charon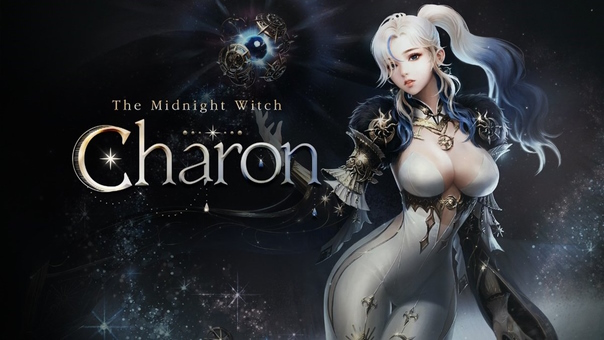 The midnight witch, Charon, is now available to play in Nexon's fantasy MMORPG Vindictus, making her the 22nd hero to enter the game. Little is known about the mysterious magician except her mission to find the "Truth" upon arriving in Colhen. Despite her cold disposition, she scours the battlefield looking for people to save. Her floating vessel, Orbis, accompanies her through battle, releasing powerful spells.
Orbis, Charon's personal companion, can harness a stream of mana through the runes engraved on it, releasing destructive spells. Players can also manipulate spells in multiple ways by spending MP to overcharge the Orbis.
Exclusive Equipment
Laniakea – Special equipment that improves the mobility that every magician needs. Charon's "Laniakea" armor accentuates her magic symbols in combat.
Shiny Stania – Based on traditional witches' garb, Charon's "Shiny Stania" armor combines the attire of Charon's mother, Luchia, with her own unique flair.
Skills
Dark Matter – Dark Matter combines the Orbis rune symbols to release a flow of powerful magic. This discharged energy reaches forward, attacking a large area. Charon can manipulate mana to use Dark Matter in various ways.
Crescent Nova – Crescent Nova spreads Orbis out like a bow, projecting destructive missiles toward the enemy for continuous damage.
Singularity – Singularity pushes Orbis to its limits, opening a black hole that traps enemies, dealing increased damage. Charon can explode the singularity before it vanishes.
Apocalypse – As her ultimate attack, Charon can condense the enemy's space-time.
Special Event
To celebrate Charon's arrival to the Vindictus universe, Nexon is hosting "Charon's Celebratory Package Event." This in-game event for players with a level 10 Charon or above takes place now through Tuesday, Feb. 14. Throughout this event, players can receive Charon's Outfit Set Destiny Box, the title of "The First Charon," an Unlimited Inner Armor Pass (30 days) and a Storage Chest Expansion Ticket. Details on each event item can be found here.
Next Article
Epic 9.5 is on the way for Rappelz and promises to bring a host of new features and challenges to the community, such as a new dungeon.
by Ragachak
Snail Games is proud to announce the launch of our whole new, revamped official website for Black Gold Online!
by DizzyPW