Vermintide "I DON'T WANNA JUMP!!!" Special Edition Announced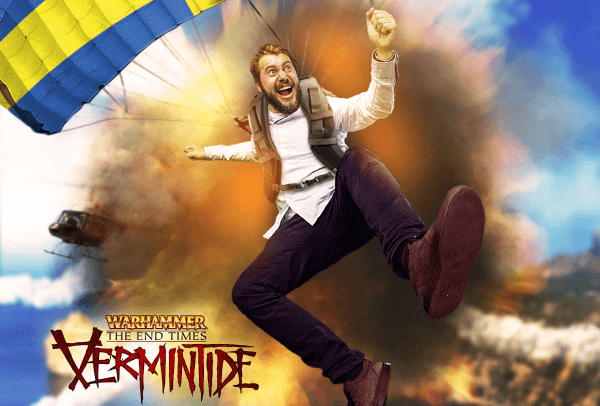 Victor Magnuson is the Game Designer behind cooperative action game Warhammer: End Times –  Vermintide and has done several things in his life. He has developed a couple of games, seen a wild Moose and eaten a burrito. One thing he hasn't yet done, is jump out of a perfectly good airplane 15,000 feet above the ground, mainly as he has a near-acrophobic fear of heights. But with the help of Vermintide fans, he will soon experience the adrenaline rush of terminal velocity at 125 mph from a flying object in the sky and all for a great charitable cause – UNICEF!
"We told Victor, you have to support your game", said Martin Wahlund, CEO of Fatshark, "The video of his sky dive will be the main feature in a special limited edition of Vermintide, the "I DON'T WANNA JUMP!!!" Edition featuring four copies of Vermintide and video of Victor's skydiving experience, that will be sold via Ebay for charity. Let's hope it's not the End Times for Victor."
"I suspected skydiving was dangerous when the skydiving company asked me to sign a waiver", said Victor, "they confirmed my suspicions when they asked Fatshark to pay in advance".
The 'I DON'T WANNA JUMP!!!' Edition of Warhammer: End Times – Vermintide will be sold via ebay, with a starting price of $1. The auction winner will receive four Vermintide promo codes to experience the full hero roster with a group of friends. Besides the games, the winner will also get a diploma for being the person that, so to speak, pushed Victor out of a plane. To bid on the 'I DON'T WANNA JUMP!!!' Edition of Warhammer: End Times – Vermintide visit: http://www.ebay.com/itm/262094681829
Next Article
The art is the strongest part of this game. Blending colors and sweeping brush strokes convey a pleasing stage to play in. Characters are draw...
by DizzyPW
After a lengthy search, and one rather rough false start, CityState Games has officially introduced the two hired senior engineers.
by DizzyPW