Valentine's arrives in Silkroad-R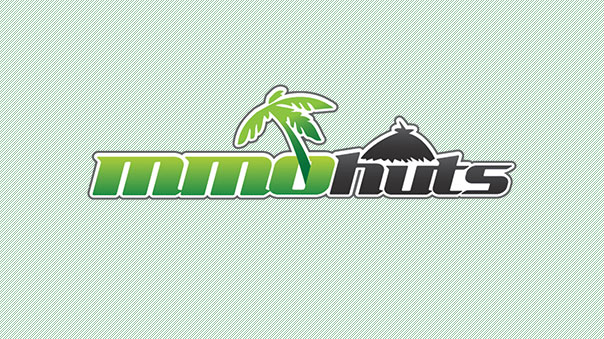 Silkroad-R is receiving a special series of events just for Valentine's.
Players can find chocolate from defeated enemies until February 28, which grants strength or intelligence buffs. These chocolates can also be traded, and those who eat it will show a heart above their heads. A special "Date Money" contest (ends February 12) will award 20 couples who take a screenshot of themselves with the hearts with Silk and a Wedding Avatar.
Also available for up to four challenges per day is the Battlefield of Infinity. Here, players must protect the Guardian Stone from waves of monsters, without the use of recovery items, for a chance at rare rewards.
Silkroad-R is published by Joymax, which also publishes Digimon Masters Online and Karma Online.
Silkroad-R Gameplay Screenshot

Source:
SILKROAD-R SHOWS LOVE IS A BATTLEFIELD

Lovely Events Pair Up For Sweet Prizes

February 8th, 2012 – Joymax, a developer and publisher of interactive entertainment for the global market, today revealed two new events for Silkroad-R. The newest iteration of the Silkroad family is its own game, with unique accounts and servers, and is completely free to download and play! Newcomers to the Silkroad franchise alongside series veterans can now enjoy the cleanest gaming experience yet. Beginning today, players can enjoy a new daily quest and for a limited time dive into some loving Valentine's events! To find out more about Silkroad-R and or to enter either of the current events, visit the official site at http://www.joymax.com/silkroad-r/

The Battlefield of Infinity awaits with a mighty challenge! Enter the arena solo or with a group in order to protect the precious Guardian Stone; protect it from waves of vicious enemies and prove your prowess, receiving rare rewards for success. Be warned, however, the Battlefield is not for beginners: numerous recovery items, including auto-potions, will not work within these walls. The Battlefield can be attempted up to four times per day, so choose your party wisely.

Once victory is in your grasp, it's time to woo their fellow player of choice. Chocolate will drop from defeated foes now until February 28th, and provide a strength or intelligence buff. These chocolates can be traded, and anyone who has recently tasted any chocolate will have a small heart floating above their head. Then prove your love of the life is worth everything by submitting a screenshot of both with hearts over their heads to the Date Money contest. 20 lucky couples will receive Silk to use out on a date, as well as a rare "Wedding Avatar!" This is one of the few ways to acquire this avatar, so submit your screenshot before February 12th.

"Valentine's Day is a popular event for our users because of the number of couples, whether they're friends or married, that play our game together," said Joymax CEO, Nam-chul Kim. "Alongside the new Battlefield of Infinity, which gives players a daily challenge to overcome either individually or with their closest warriors, there's even more to LOVE about Silkroad-R."
Next Article
Dangerous pyrotechnic, gravitechnic, and nanotechnic displays as magic for your entertainment!
by MissyS
BISBOG announces the Astro Lords: Oort Cloud publishing right for North America and Europe.
by MissyS
Don't let the weird name fool you. Rappelz is one fantasy MMORPG we can consider almost a classic, but not shelved and forgotten.
by Guest