Seconds from Silence Announced as Upcoming Moddable MMORPG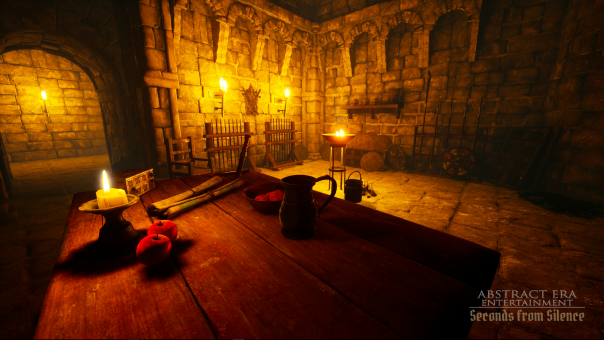 Abstract Era Entertainment announced an ambitious MMO/RTS today, Seconds from Silence. Seconds from Silence is being developed in Unreal Engine 4, and the goal is to develop a moddable MMORPG. Players will be able to play Seconds from Silence in both online and offline modes, and also develop/share their own assets for the game. The idea was inspired by games in the Elder Scrolls and Witcher series, and the players will be traveling a vast, epic fantasy environment, that they will help create.
"Just look at Skyrim… it was released back in November of 2011 and people still love modding and playing it to this very day. You get to personalize the game and make it look however you want it to look. It just makes sense to develop Seconds from Silence as a moddable MMoRPG. It can be done and we don't know of anyone else that is doing it. If you loved modding Skyrim and you loved modding the Witcher, then very soon, you will love modding Seconds from Silence…" –Abstract Era Entertainment
Seconds from Silence is being developed for PC and Console and will be in alpha testing within the next couple of months. Mod support is becoming more popular than ever, and Abstract Era Entertainment wants to try and pioneer a new way to approach MMOs. To further touch on the subject of modding in Seconds from Silence, Abstract Era Entertainment states that mods that are installed are visual only to the player that installs them. However, mods will not be limited to aesthetic changes of current assets. Players will be able to create custom assets that will be balanced base don the construction requirements.  Should anyone be interested in registering for the game, they can do so at the link below.
"The beauty of that is that this will allow players to create their very own unique culture and other players will be able to see it," the developer continued, "We know that concerns may arise in the community of people that will play as Thieves or Assassins. No worries, Shaders have strict rules set in place to prevent mods from making your character glow on another person's client, there are also size restrictions, draw call limitations and so forth, you will still be able to hide in the shadows." –Abstract Era Entertainment
Seconds from Silence is in a pre-alpha state moving towards the first series of alpha tests. The game is being developed in a process, Abstract Era Entertainment developers referred to as, "the Four Pillars." These Four Pillars of development are titled as follows: Character Creation, Combat, Building and Ruling. "We began the development of Seconds from Silence in the second quarter of 2017 and prior to announcing the title we wanted to be very close for alpha testing," the developer states. Abstract Era Entertainment is interested in receiving feedback from gamers and Mod Developers that will be playing the game.
More information can be found in the link below.
Next Article
Today, ArenaNet is finally revealing the elite specialization for the revenant. Meet the herald.
by MissyS
For the fans of military simulation games, Legend of Warships has an exciting event on the way on their Facebook Page.
by Ragachak
Square Enix and Bigpoint have partnered together to offer Gameglobe, an online game platform.
by MissyS