New York Comic Con 2014 Day 1 Recap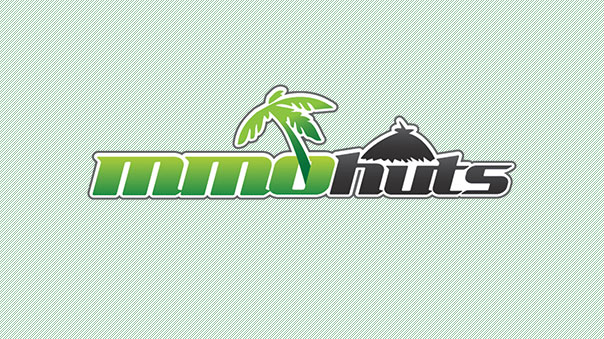 By Michael Sagoe (Mikedot)
Another year, another New York Comic-Con! The event that I've been waiting all year for has finally arrived. This year promises to have just as many events, excitement and half-naked men dressed up in Salior Moon cosplay as last year, and I was more than ready to take the Javits Center head on…
But first, I and my associates had to make a stop by an off-site studio before heading off to the main event floor, so my inevitable battles against creepy cosplayers would have to wait. Square-Enix invited me to check out their upcoming game titles once more, and they had quite an interesting mix of games available for previews, including Lara Croft and the Temple of Osiris, Sleeping Dogs: Definitive Edition, Hitman: Sniper and more.
First game I previewed at the shop was the new Lora Croft game, which is a direct sequel to Lara Croft and the Guardian of Light, a top-down action game featuring twin-stick shooter combat and tons of cooperative play. Temple of Osiris continues to improve on this award winning formula by introducing 4-player co-op into the mix. While this new title is mostly delivering more of the same, the four player co-op was an absolute blast to play due to how important cooperative actions can be for clearing objectives and finding secret treasures. But still, the game is also an arcade-style, score based challenge, so players are all still competing against each other for points, so I can say without much doubt that this will be a game that will be ruining A LOT of friendships for months and years to come.
Next within the Square-Enix booth, we previewed a new kind of indie title called "Life is Strange", a modern adventure game with a twist, featuring a protag named Max who is just an average teenage girl, but with the ability to control time. This game was created by the same developers behind Capcom's recent title "Remember Me," and the devs stated that they wanted to do something special with the time controlling elements from Remember Me, but set in a much different setting.
One of the more unique aspects with Life is Strange is the game's visual style where every single texture has a hand drawn look, yet is able to maintain a realistic feel to it. This is a game about choices of what could be and what could have been, which really sets itself apart from other puzzle adventure games like it. As you progress though the game, you can rewind time to undo actions and change possible outcomes in the story. The whole premise seems incredibly interesting to me due to how steeped in reality the game is, yet doesn't seem to go too overboard with the whole time rewinding ability as its plot device. Pretty much, this game was made to get us to think long and hard about the choices we make in life.
The booth presented here also had a very modern tone with various photos and knick-knacks spread about. The event presenters at this booth also did a nice job easing the viewers into the game as we ended up shooting the shit while he held up Polaroid pictures of characters from the game.
Last game we checked out was the upcoming Final Fantasy Type-0 HD, which is a re-release of an action RPG for the PSP. Now this game was a little bit of a strange one, as it was originally supposed to be a mobile phone game, but decided to scale it up for handhelds because they felt it would have gotten a better reception if it was presented as a new flagship title.
With that said: This game in particular wasn't exactly my cup of tea. The gameplay was very much like FFVII Crisis Core or Kingdom Hearts, but at a dreadfully slower pace. It also didn't help that some visuals didn't translate well from the PSP version, such as Irift's summon model, which has noticeably low polygons compared to all the other updated models. And besides that, the gameplay seemed incredibly repetitive when it came to mission objectives. Perhaps there's a lot more to the core gameplay and mission structure than what I was presented in the press demo, but it doesn't seem like this title will be getting much of my attention.
NOW that all that was out of the way: It was time to ACTUALLY hit up the convention center!
This year had a lot of condensed entertainment scattered around categorically, with most of the gaming booths settled neatly next to each other instead of being spread all around. Of course, there was still a few strays here and there, such as the Brave Frontier booth which was registered as a premium booth.
Speaking of which: Brave Frontier is an ever popular turn-based RPG for mobile and tablet devices that features flashy over-the-top action with classic JRPG visuals. Not to mention that it also features Hatsune Freaking Miku as a playable character, and the booth staff was giving away special NYCC codes for attendees.
PS: If anyone wants me to grab one for them, leave a message in the comments!
After taking a break from walking around the event floor, it was time to attack cosplayers!
And after THAT was done, I really had to take a break and rest up for a bit, so I took a seat down at the Twitch booth where they were showing off a bunch of games as well as hosting several game dev interviews. One of the more interesting interviews that popped up was a tech developer interview for an upcoming multiplatform MMO called "Firefly Online." I had never heard about this game until this very day, and I was very intrigued since it was based completely off the cult favorite TV series "Firefly." While I sat down and watched the whole interview from start to finish, they mentioned that they would be hosting a panel later that day, and would be showcasing some new details and gameplay.
I decided to check out the panel for myself and I will say that it does look pretty interesting. As a sci-fi MMORPG, players will be able to cruise the galaxy as space cowboys for hire (space truckers are dirty scumbag criminals), all fitting into the vibe presented by Firefly very well. The combat also featured turn-based tactical combat similar to games like XCOM or Shadowrun, so fans of those games should feel right at home.
Overall, the first day was pretty eventful, and just like last year, it wasn't as packed since Thursday and Sunday usually have the least amount of attendees. Tomorrow and Saturday will be much more ruthless, I'm sure, so please pray for my safe return as I do battle against more half-naked men in Sailor Moon cosplay as events continue to unfold.
Next Article
Good morning, Internet! The Long Look Back is going to be a series we work on here on MMOHuts where we take a look back at MMOs of yore.
by Ragachak
Galactic Inheritors, the first new game from former Paradox Interactive designer and programmer team Chris King and Pontus Åberg, is now avai...
by Mikedot
JC Planet has announced that after its successful launch of Dungeon Hero, it will bring a new update on May 4.
by MissyS