Millennium Conquest Announced For Limited Release in Phillipines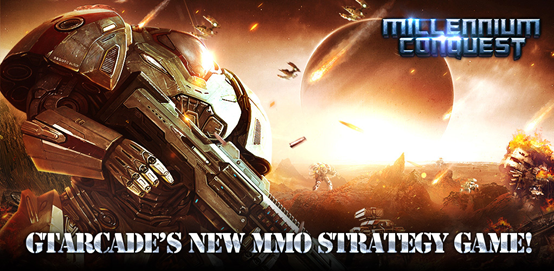 GTArcade is excited to announce Millennium Conquest, a new free to play online simulation war game for mobile. Based in a rich science fiction universe, Millennium Conquest is an MMO STG that allows players to wage their own galactic war in a persistent online world.
Thousands of years after humanity left Earth to colonize space, the Gaia system has become the center of a galactic power struggle. Powerful factions clash for dominion over the resource-rich worlds and there is no peace in sight. In this time of turmoil, only the bold will prevail.
Will you build the greatest Empire this side of the galaxy or crumble like the countless who tried before?
Millennium Conquest is a massively multiplayer online strategy game; In Millennium Conquest, you take on the role of a Supreme Commander and can recruit from hundreds of unique Commanders to lead huge armies into battle. Expand and wage war across 13 Sectors made up of millions of combat grids. Build and customize your bases and armies according to your playstyle. Remember, strategy is the core of Millennium Conquest. The game's diverse gameplay options and real-time tactical warfare provide the highest levels of strategic game play on mobile.
Resources are limited and you'll need to strategically construct cities and bases to support your civilian and military population. Use the game's robust progression system to train and upgrade your Commanders and troops and create a force to be reckoned with. Develop a wide variety of strategies and battle tactics to crush your rivals and expand your territory.
Play in a huge persistent online world and join Alliances with hundreds of other players. Manage your combined Allied forces in real-time cooperative gameplay and engage in massive on-going PvP conflicts. In such chaotic times, you'll need all the friends you can get.
Embrace the next generation of RTS games with Millennium Conquest! Visit the official Fan Page to get the latest news about the game!
Download and play now and enjoy free gifts to kick-start your galactic saga from the below link.
For IOS Store: https://itunes.apple.com/app/id1139152171
For Android Store: https://play.google.com/store/apps/details?id=com.gtarcade.mc.ph
March Madness means more than just basketball this weekend as the world's best Path of Exile players battle to the death(s) in the award-...
by Mikedot
This weekend, Amazon's Mobile Masters esports tournament kicks off in Seattle!
by Ragachak
GOG.com introduces DRM-free Double Dragon Trilogy to PCs everywhere.
by MissyS