Kingdom Heroes Second Developers Blog Post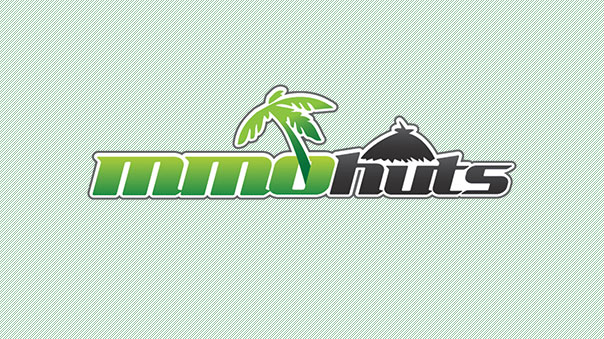 Aeria Games has released the second post in their developer's blog series for the upcoming free to play MMORPG, Kingdom Heroes. While the game is set in the same era of Chinese history as a dozen other Asian MMORPGs, Kingdom Heroes promises a host of exciting features that will make it worth playing.
This dev blog discusses the game's unique soldier system. Players will earn their first customizable NPC soldier within 15 minutes of starting the game. NPC troops are a big part of the whole large-scale PvP wars Kingdom Heroes is aiming for. With siege weapons, mounts, and player controlled ships thrown into the fray its easy to see how exciting these battles can get. The number of troops a player can command is based on tier command rating which is effected by the character's charisma stat. There's also a loyalty system in play, earn your troops respect and they'll fight harder for you.
While Kingdom Heroes encourages players to work together, the soldier system is useful for those who wish to play solo. Each soldier gains experience independently and can specialize into a number of different classes. By fielding a small squad of NPC soldiers, players can have their very own group without needing to rely on other players. More social gamers can form groups of up to 6 players and pool all their NPC soldiers into one large army. So far Kingdom Heroes looks very exciting. Gamers interested in learning more can read the full release below or check out our preview page for videos, screenshots, and more information.
Aeria Games is the same North American publisher behind a host of popular free to play MMOs and MMORPGs including Shaiya, Last Chaos, Grand Fantasia, MegaTen, Twelve Sky 2, Turf Battles, Project Torque, and several others.
Full Release:
Kingdom Heroes Developer Blog #2:

Leveling, Loyalty, & Leading Your NPC Troops into Battle

Chances are that the first major game feature you'll come across in Kingdom Heroes is its unique soldier system. I don't want to spoil too much about the first fifteen minutes of the game, but I will say that the new player experience is very tightly designed and, after a harrowing sprint through a dangerous chasm, it caps off with the gratifying reward of earning your first upgradeable and customizable NPC soldier.

Because Kingdom Heroes is built around the concept of large-scale kingdom warfare, soldiers can potentially become a very powerful and important part of the game. When you factor in mounts, siege engines, player ships, guild combat, and city conquest, NPC troops add another crucial element in recreating the experience of being caught up in a massive battle of epic proportions.

As you rise through the ranks of your chosen faction, you acquire skill points that you can invest in a variety of attributes. Some of these will determine your character's overall attack and defense scores, but others, like charisma, will affect your leadership prowess on the battlefield. The greater your command rating, the more troops you'll have available at your immediate disposal. Additionally, there's a loyalty subsystem in play that affects the morale and, in turn, the effectiveness of your NPC allies. If you have enough of your soldiers' respect, they'll fight that much harder for you.

While a fair amount of the high-level content in Kingdom Heroes emphasizes cooperation between players, the soldier system allows you to take an independent approach to the game if that's the kind of play style you prefer. At the same time, that's not to say soldiers are strictly for solo players – groups (made up of a maximum of six players) can ally together and combine their NPC forces to become an incredibly formidable and self-sufficient team. Those who collaborate efficiently, effectively, and execute the best strategies will always come out on top.

A leader is only as strong as his or her team, so it's important to complement your character with a custom outfit of soldiers that augment your strengths and/or make up for your weaknesses. There are a handful of subsystems you can take advantage of to suit your individual strategies, including solider classes, unit formations, tactics/behaviors, loyalty, and equipment upgrades. I'll touch on a few of these features below.

In Kingdom Heroes, soldiers accrue experience independently of one another. As a particular NPC unit increases in level, he/she/it has the option of advancing along different paths. For example, a lowly Volunteer can ultimately evolve into an experienced Lancer, Longbowman, or Cavalry Archer (see a preview of one of the NPC class trees above). An NPC's path is entirely up to you, and if you're the cunning sort, you'll want to develop your troops along lines that suit your primary character's skill set.

Players can also organize their troops into various formations, allocating exactly where it is they want to position each individual soldier. Every formation has its unique advantages and disadvantages, and, like choosing NPC classes, you'll want to use a formation that plays to your strengths and guards against your weaknesses. For example, pretend you're an expert archer with a complete arsenal of unit types – how are you going to organize your troops? You'll probably want to position most of your units far ahead – perhaps swordsmen or cavalry out in front and pikemen protecting your flanks? The choice is entirely yours to make.

If that isn't more than enough, you also have the option of creating and saving multiple soldier sets for later use, accessible from within the soldier system interface. You're certain to encounter a variety of obstacles in the game world, and this handy feature can become a lifesaver if you find yourself in a hairy situation where your usual soldier set isn't ideal for the circumstance. With a combination of a few clicks and buttons, you can call out your specialized squad of reserves and swap them with your primary team of bodyguards.

Customization is also an important part of the soldier system in Kingdom Heroes. Apart from NPC class selection, players can give their soldiers unique names and outfit them with armor and weapons that their own character may have outgrown. Instead of selling off your equipment at the auction house or a vendor, you actually have a reason to hold onto your old hand-me-downs. Additionally, if you find that you no longer have a use for one your soldiers, you're free to sell off their services to someone else via the auction interface.

Sound interesting? You can enter the world of Kingdom Heroes and lead your troops into battle when the game begins Closed Beta in late Spring 2010. To be among the first to sign up for an early glimpse of the game, visit http://kingdomheroes.aeriagames.com. To join the discussion and start planning your war strategies, visit the official forums by clicking here.
Next Article
Today, Perfect World Entertainment Inc., a leading publisher of widely-acclaimed free-to-play MMORPGs, announced the availability of Torchligh...
by Mikedot
Funcom just updated Secret World Legends with the first of three major content additions that expand into a world of ruin and disaster: Tokyo.
by Ragachak