Firefall's Final Closed Beta Milestone Live This Thursday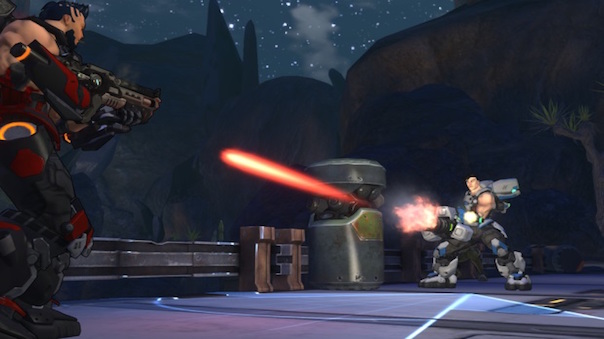 Red 5 Studios today announced that Firefall's final Closed Beta milestone is coming this Thursday, June 27. Red 5 is giving current beta testers two weeks of exclusive access to the new milestone before Open Beta, allowing loyal fans an early look at its much-anticipated player-versus-player (PvP) eSports game type, "Jetball", and Firefall's first story-based episode, "Blackwater Anomaly". Players looking for immediate access to the new milestone and exclusive rewards can still purchase Founder's Packs before they're retired on July 8.
Catch a sneak peek of Firefall's upcoming live action trailer before its July 9 reveal:
Blackwater Anomaly is Firefall's first story-based episode, kicking off Red 5's world-story reveal. Designed as an immersive, cooperative experience for five-person squads, players will finally get to venture out of New Eden and into the deadly Melding storm that's taken over the world. Their mission: to investigate the anomaly that's appeared in Blackwater Marsh, learn more about why the Chosen are here and try to unravel what, or who, is behind this attack on humanity.
Jetball is a new objective-based eSports mode where two teams of five players compete for victory by flying or shooting a high-tech ball through their opponent's goal. Because players can't defend themselves while carrying the ball, teams must rely on passing and coordination, strategically using each Battleframe's unique weapons, abilities and maneuverability to score. With Jetball, Red 5 has reinvented a classic multiplayer experience for a fresh wave of eSports fans.
This week, why not start off with a trio of new Mythos Global videos?
by MissyS
Trendy Entertainment has released "The Harbinger Awakens," the latest major content update for the action tower defense game.
by MissyS
Gazillion is celebrating the 10 months since the launch of Marvel Heroes with its biggest event yet, the Big Ten Week.
by MissyS