'Dawn of the Last Continent' Update Arrives in Blade & Soul Tomorrow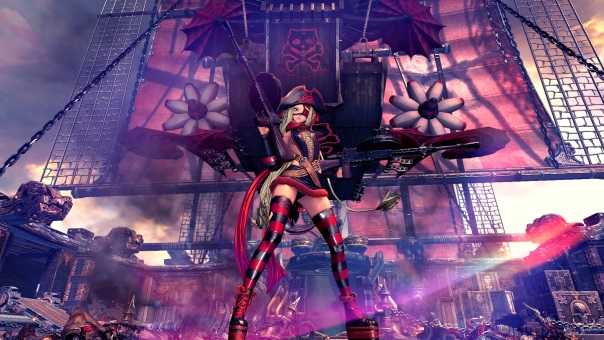 The biggest Blade & Soul update is arriving tomorrow, Dec. 6th and is called "Dawn of the Lost Continent". Players journey to Solak and the story will continue forward. The biggest part is that the level cap will increase to 55 for all players, and the Hongmoon level cap will go up to 25. Hongmoon will also receive Ultimate Skills as well as a solo dungeon, two 6-player dungeons, and a 12-player raid. Full details can be found in the link below.
Here's a closer look at what's coming in the Dawn of the Lost Continent Update:
The Most Fearsome Scallywags Wanted – Players will have a new level cap to reach, as the max level gets raised from 50 to 55 for all characters. Those who prove their mettle will unlock Hongmoon Ultimate Skills; class-specific attacks of pure destruction.
Westward, Ho! – Act 8 of the epic Blade & Soul storyline sends players on a mission to awaken Jinsoyun. Of course, players will need to enlist the help of Chol Mugo and his GIANT FLYING PIRATE SHIP (The Iron Shadow) to reach the mysterious continent of Solak. There are plenty of new areas for players to explore, including Valindira, the long-lost ancestral home to the Yun.
Gather Your Crew – Hollow's Heart and Starstone Mines are the two new 6-member heroic dungeons in Solak, filled to the brim with new treasure, waiting to be taken. And unruly buccaneers can test their skills in the new weekly 12-member raid, Snowjade Fortress.
Become the King of the Outlaws on Outlaw Island! – Poharan, the gun-toting maniac and Vice Admiral of the Blackram, has an even more maniacal gun-toting sister, Yeohoran! And she's the resident Force of Nature on Outlaw Island. The heroic solo dungeon will pit players in the Blackram Battle Royale to challenge the pirate queen herself in a deadly duel.
Next Article
Ghost in the Shell: Stand Alone Complex – First Assault Online (First Assault) will be available soon to players via Steam.
by MissyS
Total War Warhammer Announced
by Mikedot
City of Steam developers have posted a new coding dev journal, with a fun little bonus.
by MissyS