Crossout Update 0.6.0 adds Drivers and Customization Kits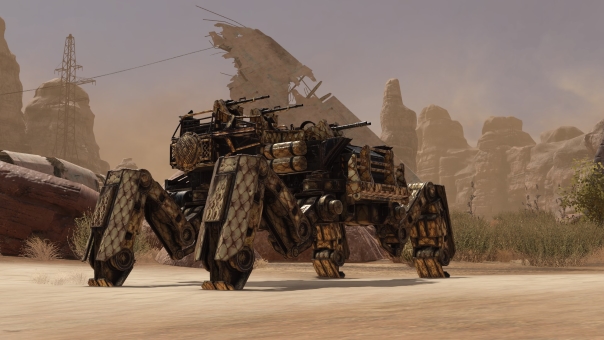 Today, Targem Games' and Gaijin Entertainment's post-apocalyptic Action MMOG Crossout released Update 0.6.0, which introduces levelable 'drivers' to operate the steel beasts constructed by players. Additionally, a new weapon customization system was added, allowing players to further personalize the look of their vehicles.
Before heading to battle, players can now select a driver to operate the vehicle they've constructed. All drivers belong to one of the factions in the game and offer different traits and skills that can be increased in combat. The first driver available to everyone comes from the Engineers faction. Players can unlock more characters by increasing their reputation with the different factions. As drivers increase in level, they learn new skills, this provides various benefits such as the ability to become more accurate when firing machine guns, recharge drones faster or increase armor protection of the whole vehicle.
Additionally, Update 0.6.0 allows fine arts experts to further personalize the looks of their vehicles through customization kits, which are available for the different weapons in game and will make the vehicles they are mounted on look even more impressive. Customization kits can be obtained either by increasing faction reputation, or by purchasing them on the in-game market. Once customized, weapons can freely be changed to another customization if the player has unlocked or purchased the respective kit.
Since the launch of Crossout two weeks ago, players have already created countless of interesting, funny and truly impressive vehicles. Check out some amazing examples on the special section now available on the game's website.
The update also introduced several changes to the game modes, vehicle parts and interface, and players can look for many more comprehensive updates to Crossout in the future, bringing new features and improvements based on player feedback.
Next Article
Joymax has announced today a set of new surprise events that will begin tomorrow, Tuesday, January 15.
by MissyS
Sentinel Heroes Studios announced the release of a new update for its strategic RPG game Sentinel Heroes today. The update includes a new rank...
by Mikedot