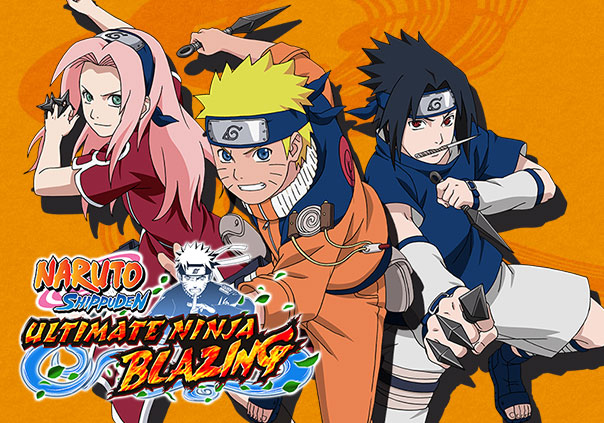 NARUTO SHIPPUDEN: Ultimate Ninja Blazing
NARUTO SHIPPUDEN: Ultimate Ninja Blazing is a free-to-play mobile strategy game developed by BANDAI NAMCO for iOS and Android devices. In NARUTO SHIPPUDEN: Ultimate Ninja Blazing players can take part in Shinobi Formation Battles and set up their own formations with their favorite shinobi from the Naruto series.
By working with your fellow shinobi you'll be able to unleash powerful Combination attacks to stop your opponents, but only if they're standing next to your allies when you attack them. This is where the strategy portion of the game comes in. Only with smart positioning will you be able to force your opponents into the attacks you expect while still managing to execute the attacks you've been planning all along.
Different kinds of shinobi can be summoned and added to your roster of ninjas through either free summons, or with summons purchased with in-game currency. Of course your favorite shinobi characters will be able to use their Ninjutsu, but some characters will possess even more powerful Secret Techniques that will come of great use in your battles. Knowing when and how to activate your team's Secret Techniques will play a big role in just how effective of a ninja commander you are.
Singleplayer mode allows you to play through a storyline similar to that of the anime's storyline, and multiplayer mode allows your to take your roster of ninjas into battles with a maximum of 3 players. Multiplayer mode also features a Phantom Castle Mode where players are pitted against one another while climbing to the top of the castle, but Phantom Castle Mode is only available at exclusive times.
If you've ever wanted to lead your own band of highly skilled shinobi, then NARUTO SHIPPUDEN: Ultimate Ninja Blazing is the mobile game for you. Learn your ninjas, learn their Ninjutsu, and lead them to victory!
Status: Pre-Release
Business Model: Free to Play
Developer: BANDAI NAMCO
Publisher: BANDAI NAMCO
Category: Mobile
Genre(s): 2D, Fantasy, Strategy
Platforms: iOS, Android

Editor's Score: 4/5

Pros:

+Can watch replays of matches.
+Entertaining visual effects on skill usage.
+Accurate renditions of character Ninjutsu.

Cons:

-Purchaseable currency makes it much easier to acquire good ninjas.
-Exclusive characters can far outweigh nonexclusives.
-Menu swapping can get irritating.



Recommended System Requirements:

OS: iOS 7.0 / Android 4.2 (or later)
HDD: 179 MB