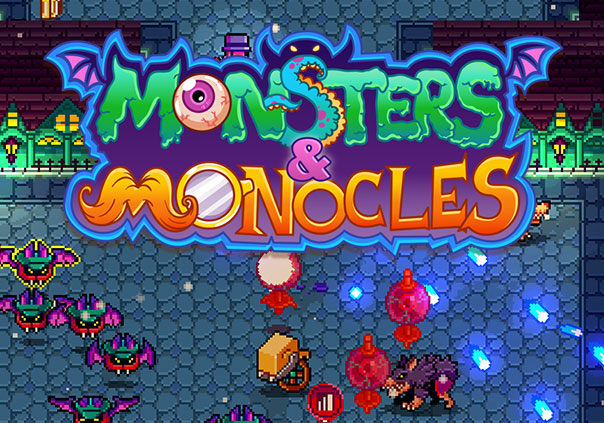 Monsters & Monocles is a fast-paced, steampunk, twin-stick shooter developed by Retro Dreamer for PC, Mac, Linux, and PS4 and it will see a Steam Early Access release in August, 2016. If you're ready to battle hordes of evil creatures alongside friends and with some of the heaviest weaponry available, then Monsters & Monocles is the game for you! An occult collector has accidentally released an unspeakable evil upon the world and only you and your team of quirky paranormal investigators have the tools to blast it back from whence it came.
You can take up the challenge in either solo or multiplayer games, which can be played online or locally. If you choose to play with others then you'll have to work together as best you can, because you all share a pool of lives. If one of you dies, then you all might as well be losing a life. Watch each other's backs and revive each other when you fall so that you can press onward!
Throughout your battles you'll be able to find weaponry of all shapes and sizes to help you blast down your foes. A blunderbuss, stake launcher, and even a cannon that launches delicious crumpets are just a few of the wacky weapons that will be at your disposal. Equippable relics can also be acquired which will give your weapons new properties and give you new abilities.
Each time you play you will even be presented with new challenges. Every level in the game is procedural, meaning you and your friends will be faced with new traps, creatures, secrets, and game objectives each time you play. Your airship will act as your base between levels, giving you a place to manage your inventory and gear up before you move on to the next challenging task.
If you think you're brave enough, witty enough, quick enough, and quirky enough then check out Monsters & Monocles and bring evil to its knees.
Status: Pre-Release
Release Date: Aug 16, 2016
Business Model: Retail
Developer: Retro Dreamer
Publisher: Retro Dreamer
Category: Stand-alone
Genre(s): 2D, Fantasy, Shooter
Platforms: PC, Mac, Linux, Steam, PS4


Recommended System Requirements:

OS: Windows 7 / OS X 10.8 / Ubuntu 14.04 / SteamOS
CPU: Core i5 or Core i7
RAM: 2 GB
GPU: GTX 400 Series or better
HDD: 500 MB