*Note: This game has been cancelled or shut down and isn't available for play.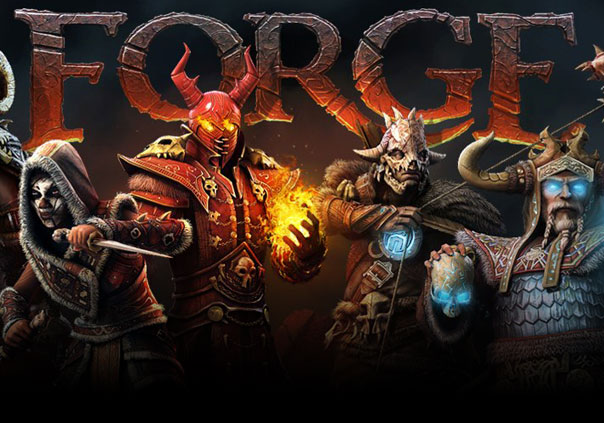 This game has been canceled/shut down.
Forge was a PvP focused MMO from Dark Vale that was developed for PC, but has been shut down. Forge let you choose one of seven different classes: Assassin, Pathfinder, Pyromancer, Shaman, Warden, Ravager, and Tinker to take into combat, each of which played completely different, giving a unique life to the game.
Forge was truly a blend of MMO style abilities, fluid combat, and instanced PvP where no groups were required. Every player could start on a level playing field from their first game forward, no matter how many games their enemies might have played before them. PvP was considered to be a main focus of the game from the ground up during development, leading to every technical and artistic aspect of the game being built around fluid combat mechanics specifically designed for multiplayer combat.
Classes:
Assassin: Assassins are masters of deception and deadly combatants. Armed with poisons, daggers, and the ability to shift into the realm of shadow, they are feared like no other. Assassins rely on deception to gain the upper hand on opponents. While they are skilled fighters, their light armor grants them little defense against the coordinated attacks of their enemies, making them unable to fight in the open for too long.
Pathfinder: Pathfinders are sentinels of the forest. They've mastered the bow and laying of traps, and use both to keep their enemies from ever getting close. Their deadly accuracy and knowledge of nature allows them to use arrows to control the flow of battle. Pathfinders wear medium armor, but are light on their feet. The best defense a Pathfinder has is their ability to keep the enemy at a distance through the clever use of traps and specialized shots.
Pyromancer: Pyromancers are born of lords and nobles. Through their endless and shamelessly expensive devotion to the craft of magic, they are able to manipulate the destructive element of fire, using it to burn and destroy their enemies. The concentration required to use such abilities forces them to often remain stationary while using their most powerful attacks. While their armor is enchanted to protect against their own flame, it offers little protection against all else. Their best defense is staying away from the heart of battle and fighting from the edge.
Warden: The Warden is a protector of men, a fearless moving citadel around which their allies can become nearly indestructible. The Warden believes that protection is a greater honor than destruction, focusing their martial training on the shielding of allies. Carrying massive shields, they and those they are protecting are difficult to bring to their knees. The Warden wears heav
y armor, weighing them down slightly, but offering them tremendous protection.
Shaman: Shaman have an arsenal of abilities at their disposal designed to restore the health or otherwise support their allies in battle. With minimal offensive tools at their disposal, they rely on their allies to clear the field of enemies. Though they're not direct combatants themselves, they are sturdy enough to survive in the heart of battle.
Ravager: A "stay in the fight" melee damage dealer and extremely mobile, they are able to use their grappling hook to move around the map by firing it at a surface and jumping while they have momentum. They're also able to attach the grappling hook to friends and enemies, either dragging the other player to them or themselves to the other player. By alternating between their two fighting styles, they can shift from an AOE melee character using their chain to a single target character using their sword.
Tinker: The Tinker has a variety of gadgets and traps that they can deploy to help defend or attack an area. While we of course have the traditional concept of a turret as one of these, the Tinker goes well beyond that. The Tinker will be a favorite for players that enjoy the Engineer style gameplay, but also those that enjoy Tower Defense. Smart use of the Tinker ability set with teammates can lead to some deadly, and hilarious, combinations.

Status: Shut Down
Business Model: Free to Play
Developer: Dark Vale Games
Publisher: Dark Vale Games
Category:

Stand-alone

Genre(s):

Adventure, RPG, Fantasy

Platforms:

PC


Editor's Score: 3/5

Pros:

+Each class looks, feels, and plays differently.
+Skill-based MMO combat.
+Fast paced environment.

Cons:

-Pure PvP may not appeal to everyone.
-Tutorial and practice arena lack all updated classes.
-Progression feels non-existant.





Description: Forge is a PvP focused MMO from Dark Vale where players could focus on battling for their gods with seven different classes to choose from. The game is now shut down.
Starfall Tactics will be holding a pre-beta test as well as a PVP tournament with a livestream in the near future.
by Ragachak
Don't let the weird name fool you. Rappelz is one fantasy MMORPG we can consider almost a classic, but not shelved and forgotten.
by Guest
Starting today you can get the new SENTINEL reward tier which is priced at a reasonable €15 ($16.34) for the limited early bird version.
by MissyS