Yoozoo Games Partners with Ubisoft to Bring Assassin's Creed to Legacy of Discord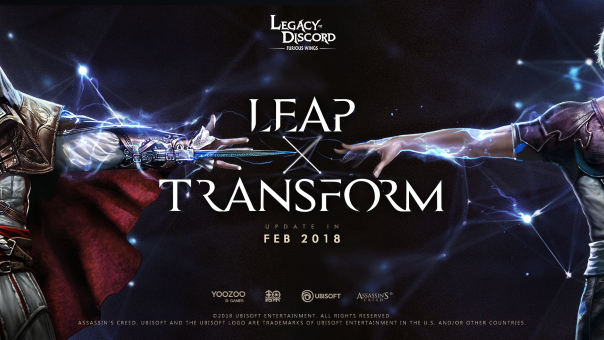 Yoozoo games and Ubisoft have announced a partnership today that will bring popular Assassin's Creed characters to Legacy of Discord: Furious Wings. The first assassin, Ezio will make his appearance in the next update, coming in the following week. This also highlights the "Metamorph System", which allows players to transform into legendary creatures and unleash incredible powers in battle. This system will break the limitations of the ordinary design and takes the fighting to a whole new level. Players will be able to transform into Ezio with exclusive skills and effects. He's sure to deliver a fatal blow to all his foes. There is also a development with Yoozoo's IP  cooperation strategy, and they have acquired the copyrights to China's first science fiction masterpiece, "Three Body" and the distribution rights in China for browser and mobile game adaptations of the Japanese IP "Touken Ranbu -ONLINE-". At ChinaJoy 2017 Yoozoo Games announced that it has been authorized to develop "Game of Thrones" mobile games together with Warner Brothers. According to Liu Wanqin, Vice President at Yoozoo Games, Yoozoo's publishing covers North and South America, Europe, Asia, and the Middle East. With this broad coverage of over 190 countries and regions around the world, Yoozoo will adhere to its IP strategy, building and strengthening cooperation with global partners.
"Assassin's Creed is a global multimedia franchise with fans all over the world, many of whom from China. This partnership with Yoozoo originating from China but targeting the global market, is a testimony of the universal appeal of the I.P. come the update, Legacy of Discord – Furious Wings players will be able to transform their characters into some of the most iconic Assassins and kick ass with the game's metamorph system. We have worked very closely with Yoozoo to create this exclusive content, and we hope that it will not only satisfy the fans but also appeal to non-fans as their first experience of the Assassin's Creed franchise, and encourage them to delve deeper into its rich and expansive universe." said Aurelien Palasse, Head of Game Publishing and Consumer Product, Ubisoft.
Next Article
Cynane the Queen Slayer, the brilliant female military strategist and field commander, is available to play in a new update that is live now.
by MissyS
Magic Chronicle is a Free-to-Play ARPG in which you fight in fun, tactical battles alongside a party of your favorite heroes & save the wo...
by MissyS
JC planet has revealed the forthcoming update of "Legend of Edda: Global Edition". According to the JC Planet, this update has been planne...
by Mikedot