Uncharted Waters Origin Adds Dispatch System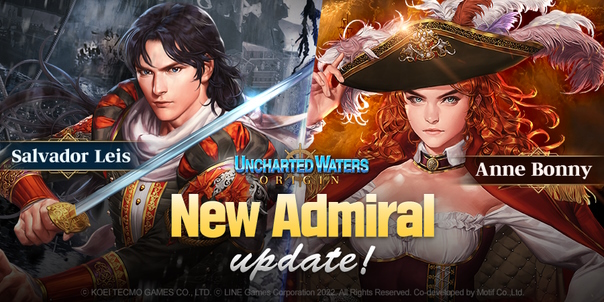 Uncharted Waters Origin has launched an update that adds two new admirals plus the Dispatch system.
New Admirals 'Salvador Leis' and 'Anne Bonny'
'Salvador Leis' is the main protagonist of an Uncharted Waters spin-off title, filled with the ambition to become a great pirate. His strength lies upon melee combat expertise, and fully completing his Memoir will reward his Unique Admiral Weapon along a Mate Ticket, Superior Mate EXP Potion and more.
'Anne Bonny' is a pirate who has set sail from Ireland to become a notorious pirate. She has the ability to amplify melee attacks as well as defense. Completing her Memoir will reward her Unique Admiral Weapon along with a Mate Ticket.
The new 'Dispatch System' to strengthen your fleets
This new content allows players to organize 2-4 fleets to be dispatched out into the desired regions. The player's fleet grows stronger upon completing the dispatch missions which are categorized by Adventure, Trade and Combat, while also earning parts, Ducat and various gear.
Attendance Event is now open to earn Growth Support Items
The Attendance Reward Event which rewards growth items has started as well. By logging into the game for 14 days during the event period, players will be able to earn Superior Mate Tickets, Blue Gems, Ducat and variety of Acceleration items to boost their growth.
Event Period: April 26th – May 16th at 11:59 PM (UTC Standard)
via press release
Bigpoint has announced the international launch of a new title: Pirate Storm.
by MissyS
How will Dauntless distinguish itself from similar titles like Monster Hunter?
by MissyS
The child of Loki is as wily a creature as you'd expect. Capable of obtaining runes to unlock new forms.
by DizzyPW