Spirit Guardian Version 2.1.1 Released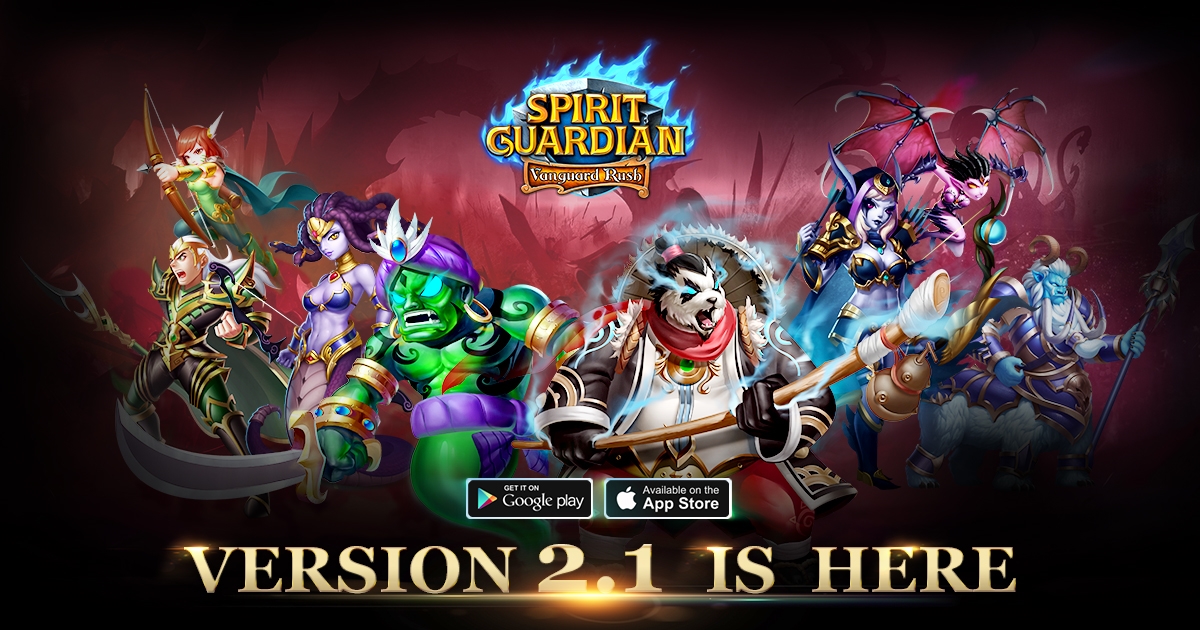 Spirit Guardian – Vanguard Rush, GTArcade's grand 3D strategy RPG for mobile, is extremely excited to introduce New Version- 2.1.1! The recent update to Spirit Guardian has been eagerly awaited by fans for several months. The DEV Team has working hard on bringing new gameplays and features to the current version. As one of the largest updates since launch, this version is filled with new features and content for players to explore and greatly expand the Spirit Guardian universe. Here's what players can look forward to in new update:
Main Features:
Guild Conquest
A single server is no longer able to contain the lofty ambitions of our players and their guilds. The top guilds want to prove to the world that they are the best, and now they will get their shot at eternal glory! Introducing the next level of competition in guild warfare, Guild Conquest! In this new mode, qualified guilds will compete with top rivals from all servers to conquer and hold strongholds. Teamwork and individual performance are as important as ever, for great rewards never-before seen in single server Guild War will be up for grabs. Who will be the last Guild standing in Guild Conquest?
Artifact Equipment
With version 2.1.1 comes a new grade of equipment: Artifact Quality (Red). This new divine level of equipment will allow players to progress their current gear beyond Legendary+5. Equipment that have been converted to Artifacts will keep all their upgrades and refinement properties, while gaining great increases in base stats, turning their equipped Heroes into . Reach new heights and new achievements with the new Artifact equipment!
Inherit System
Inherit is a new system added in version 2.1.1 that allows players to transfer the progress they've made on one Hero to another brand new Hero! Do you have decked out Hero that you no longer use? Do you regret spending all the resources training them this far? With Inherit, you can now transfer all your hard work to another Hero and save tons of valuable resources. Use Inherit to stay ahead of the meta and switch out your Heroes without the huge cost of training new ones!
New Heroes: Amber, Arch Druid, Nine Tails, Joan of Arc
Each of the 4 Great Factions are getting a new Hero in Spirit Guardian version 2.1.1! Introducing Amber, the young beauty from Lords of War; Arch Druid, the master of nature from Tempest World; Nine Tails, the mystical fox spirit from Oriental Legend; and Joan of Arc, the heroine from Western Myth. How will these powerful new Heroes change the face of the battlefield? Play Spirit Guardian now and see for yourself!
Honor Arena Optimization – Added New Function–Honor Arena Fight and Honor Arena Final Fight
2.1.1 two new combat modes has been added to Honor Arena: Honor Arena Fight and Honor Arena Final Fight. The Top 10 ranking players of the Honor Arena Fight will now enter Honor Battle to contend for the season champion title. During the Final Fight period, the 10 participating players can challenge the other players in auto-battles to gain points. At the end of the season, the person with the top points will be declared the winner.
New PVP Mode: Cross-Server Championship
Cross-server Championship unlocks at Lvl 27. Players from different servers compete for the champion by 3 -round knockout system. More surprises and challenges ahead in the new version! Brace yourself well for it!
Breakthrough optimization:
In this new version, you'll see a new breakthrough, in which you can choose and lock the skills you want to reforge. Check out the new version to try it! You will like it!
Beta testing for Ragnarok Online 2 is almost underway.
by MissyS
Bandai Namco has officially begun the closed beta for the Xbox One exclusive MMO, Bless Unleashed.
by Ragachak