Runescape 3 Launch Date Revealed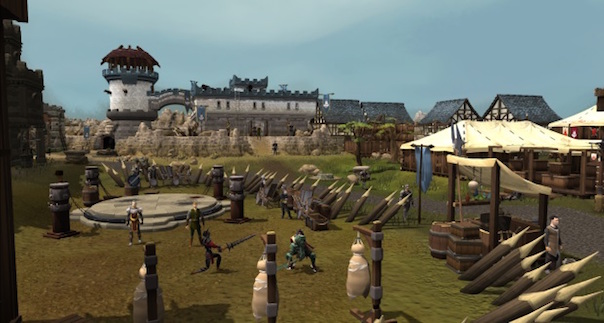 Jagex, the creators of the hugely popular Guinness World Record holding free-to-play adventure game, RuneScape, is excited to announce that the highly anticipated launch of RuneScape 3 will take place on 22 July.
The biggest upgrade in the game's acclaimed 12 year history, RuneScape 3 brings next generation browser technology, new gameplay features and heralds in ground-breaking player-driven content.
RuneScape 3 will mark the massively multiplayer online game's transition to the cutting-edge browser technology of HTML 5, enabling any player to embark on the world's biggest adventure without the requirement for Java nor any other plugins. The use of the proprietary HTML 5 engine allows for significant enhancements to the player experience such as improved graphics, longer draw distances, an upgraded camera system and superior audio. The addition of seasonal high scores will allow all players in the community to compete on weekly and monthly leader boards.
The launch of RuneScape 3 will also see player decisions directly shaping the future of Gielinor, its inhabitants and scenery for the very first time. It will also marking the beginning of RuneScape's inaugural community-focused world event, The Battle for Lumbridge. In addition to the technological leap RuneScape 3 sees the world of Gielinor enter the 6th Age, a significant new milestone in RuneScape's vast heritage, as the gods of RuneScape return to re-exert their authority.
"We received fantastic praise from our passionate RuneScape community when we first revealed the development of RuneScape 3, so we're thrilled to be able to confirm the 22 July launch date for the most significant update in the game's history," said Phil Mansell, Executive Producer of RuneScape 3. "Our pioneering use of HTML 5 technology continues to place us at the forefront of browser-based gaming innovation, and will result in a truly amazing gaming experience for players."
"RuneScape continues to go from strength to strength, and with the launch of RuneScape 3 this year we will no doubt continue on that upward trajectory," stated Mark Gerhard, CEO of Jagex. "We have a solid line up of the most ambitious innovative content and ground breaking technical innovations ever, all of which will be coming to fruition over the course of the next few months, it's going to be an incredibly exciting time for the community both past and present.
Next Article
Seconds from Silence announced that their Alpha Test will begin signups starting this week.
by Ragachak
The Repopulation team has released a new blog post detailing all their changes for their upcoming MMO sandbox game, mentioning details includi...
by Mikedot