FreeStyle Street Basketball issuing major update and new tournament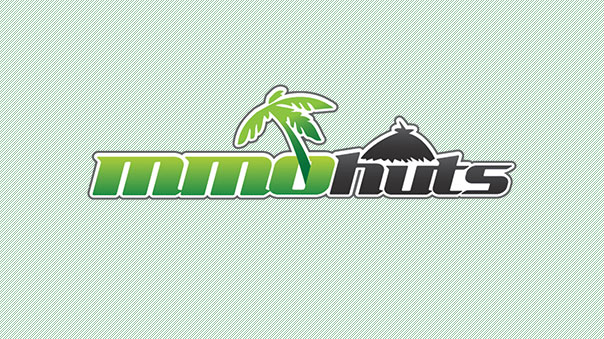 FreeStyle Street Basketball is getting ready to launch a major update for its fans on August 4th.
The update adds two new male characters, Raymond and Sieg. Raymond has been added from the European Team and offers a second male center to choose from. Sieg is the first male character specialized for a guard position. The other significant change in the update is a reduction in the leveling curve, which will reportedly reduce the time to level by over 30%.
A new tournament, the 2010 Major Tournament, is also on its way. The tournament is designed for players level 16 and above, with two brackets (16-30 and 31-45). Prizes will include $150 GameKiss cash for the winning team and VIP packages and costumes. Preliminary rounds will begin on August 1st.
FreeStyle Street Basketball Gameplay Screenshot

The Original Press Releases:
Update for summer vacation is scheduled on August 4 for Online Street Basketball Freestyle provided by a global game portal, GameKiss. During upcoming update following the June update where spider character was added, male special characters will be strengthened, which has been relatively weak comparing to female special characters, by adding two new male special characters simultaneously. At the same time, responding to requests from the users who had difficulties with level-ups, ability value and point rewards are to be adjusted to help users to achieve level-up faster and easier than before.

'Raymond,' one of the newly added special characters, is a male center from France, which is expected to allow users to have more selection between 'Raymond' and 'Howl,' previously a lone special character for center. Especially in the newly added episodes of European Team, users are to be entertained as Raymond's carefree personality will be fully implemented.

'Sieg,' another newly added special character, is to be the only special male character specialized for his guard position. As all previous special characters specialized for a guard, such as 'Alice' and Sachi,' have been female characters, overwhelming requests for male guard character have been made from the users.

'Joey,' main GM of FS, explained that the original update plan was designed to update a female special character of LA team, 'HoneyBee'; however, male character of European Team named 'Sieg' took a higher priority for update in order to accommodate popular demands by users. Moreover, "I hope upcoming update could bring joys to many users as it is to add 2 male special characters including Raymond at once reflecting the requests made by the users who prefer male characters," said Joey.

In addition, Joey, who is in charge of Freestyle services, pointed out what should be noticed from the upcoming update is that it was carefully prepared to fully accommodate the demand which users have long been longing for. Another noticeable element of the update this time is the adjustment of the table for experience value and point reward along with the addition of male special characters.

Reward table is to be adjusted to allow users to achieve level-up faster than before, which is expected to help users to have more pleasant experience with the game during this summer vacation. Major adjustments are the sizeable increase in experience value and points given to beginners when they lose at lower level section while the time required for level-up at All-star section over level 31 was shortened than before. Therefore, the time required for level-up is expected to be shortened by more than 30% comparing to the past.

Additionally, 5 new skills and the items only for special characters are also to be updated, which would bring more satisfactory experiences for the users. For more information upon the update, please visit official website of Freestyle at http://freestyle.gamekiss.com.

—–

2010 Major Tournament of Online Street Basketball Freestyle, provided by global game portal, GameKiss, is to be held starting the first day of August. This Major Tournament is the second tournament hosted by GameKiss following 2010 Rookie Tournament which was held in June.

While the previous Rookie Tournament was mainly aimed to promote friendship amongst beginners and rookie users under level 15, upcoming Major Tournament is designed for the skilled users over level 16 to fully exhibit their skills that they have refined at Freestyle.

In this tournament, major users (Level 16 through 30) and All-star users (Level 31 through 45) will be competed separately considering the gaps in the ability of characters between them. Especially for All-star users, a private channel specifically designed for the Major Tournament is to be implemented for the competition.

"This upcoming tournament has been prepared to provide fairer competition in order to thank the users at the last Rookie Tournament for their tremendous support," said 'Joey,' Main GM of FS. "Especially with private channel for the league, all characters logged into the channel are to have their ability value set at level 42, which assures all users to compete against each other solely based on their skills," added 'Joey."

This Major Tournament is also to be held while separating preliminary rounds and the final round in addition to a separation of sections according to user's level. By having winners from preliminary rounds to compete against each other at final round, it is expected to find out who the true champion of GameKiss Freestyle is in the end.

Upcoming Major Tournament is featured with far richer rewards comparing to the Rookie Tournament. Those who qualified through preliminary rounds are guaranteed for $60 dollar worth GameKiss cash, and the Champion Team winning the final round will be awarded with $150 dollar worth GameKiss cash along with VIP + package and costume item at their choice. The result of each game will be posted through GameKiss website, and the Champion Team is to have additional bonus of a priority right to participate future tournament and league competition.

For further information of upcoming Major Tournament, deciding a true champion of GameKiss Freestyle, please visit the official website of Freestyle at http://freestyle.gamekiss.com.
Next Article
KoramGame has announced the first update for its new MMORPG, Spirit Tales.
by MissyS
MMORPG MU ORIGIN 2 received the latest 7.1 update which adds Guild Territory upgrades, Accessory Resurrection, Core Awakening, & more.
by MissyS
Mechanist Games has announced that it will join forces with Reality Squared Games (R2 Games) to publish the English version of City of Steam.
by MissyS