Fantasy War Tactics Releases Guild Raid Update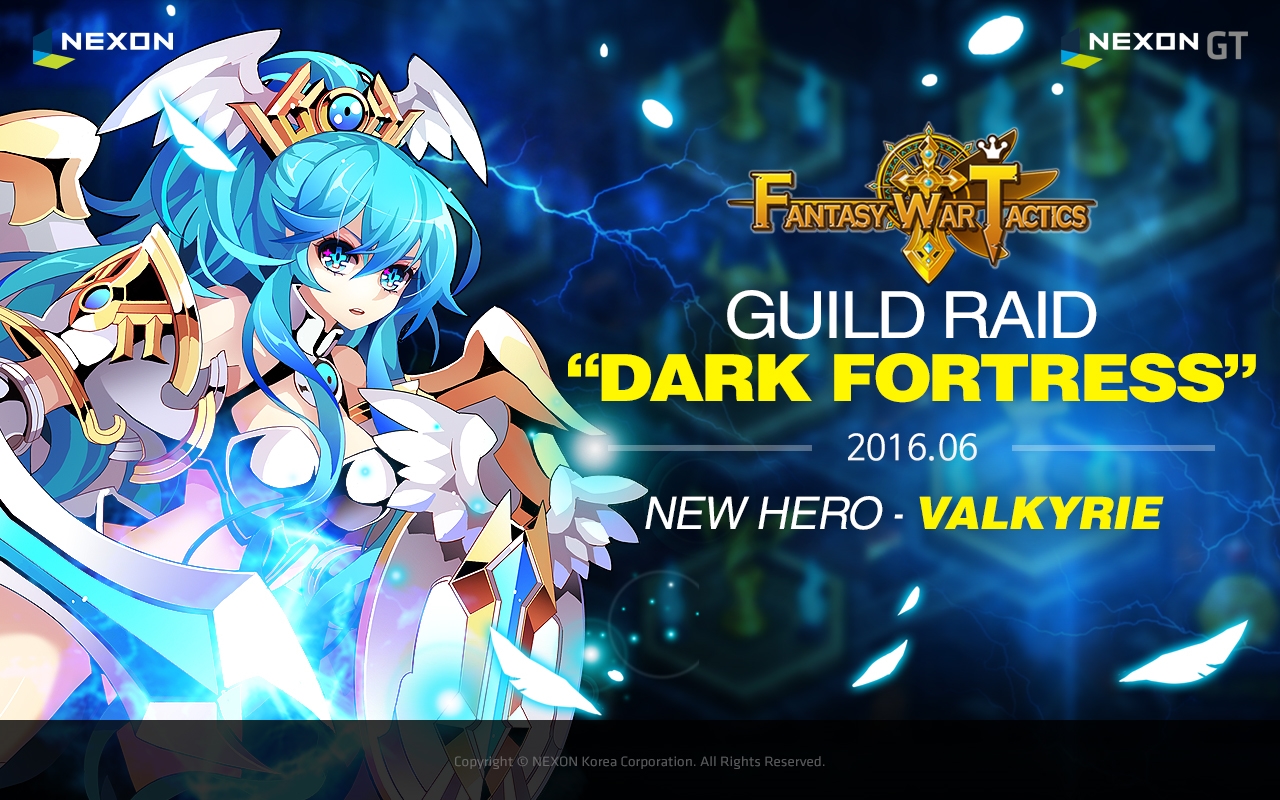 Return to the lands where magic and machines co-exist in Fantasy War Tactics, as NEXON Korea Co., Ltd. ("Nexon") (3659.TO), a worldwide leader in free-to-play online and mobile games, through its Korean subsidiary, NEXON Korea Corporation, launches the latest content update for its popular strategy role-playing game (SRPG). Fantasy War Tactics is available in over 150 countries, including those in North America, Europe and Asia, for Android and iOS. The iOS version will add a new language service for Thai-speaking players, also available for Android.
Players journey through the turn-based Fantasy War Tactics as an ambitious wizard bent on conquering the world, utilizing their heroes' character skills, terrain, strategic movements and friends to help them in the heat of battle. The latest guild raid updates, 'Dark Fortress' and 'Equipment Transcendence' comes full of new content for players to immerse themselves in, including the introduction of its newest hero, Valkyrie, as well as new challenging boss dungeons to explore.
The 'Dark Fortress' update also includes:
'The Dark Fortress' Guild Raid Update

Play in seven new boss dungeons and fight a different boss each day of the week
Recruit five allies and a guild mercenary for the journey and earn guild ranking rewards

New Hero: Valkyrie

Players can earn Valkyrie through a final scenario while playing the guild raid
Purchase Valkyrie's gene fragments at the Guild Shop
Equip New and Powerful Soul Gear

Earn the Ultimate Guild Raid reward — the two-part Soul Gear: Weapon and Wing for added stats and fancy character appearance changes

In-Game Events

For the month June, Noblesse collaborations will return and new Noblesse hero "Raizel" character will be newly available.
In the Event shop, the Noblesse Costume and set item will be available
The Equipment Transcendence update features:
Enhance beyond +10 by synthesizing the same kind of legendary equipment
Platinum or higher equipment can be enhanced up to +12 for platinum and +13 for set items
Between June 9 and June 13, to celebrate the Transcendence update, five transcendence items will be given to players each day for free
Next Article
Pocket Gems, a leader in mobile entertainment, is today announcing the launch of War Dragons, a 3D real-time strategy game for the iPhone
by DizzyPW
Papaya Play has decided to give out 1000 Dekaron Cash (more than $10 USD) to EVERY account which transferred from Nexon servers.
by MissyS
My.com are very excited to welcome BMW to World of Speed. BMW has a rich racing history dating all the way back to the golden age of racing an...
by Mikedot