Dynamight Studios Announces New Sandbox MMO: Fractured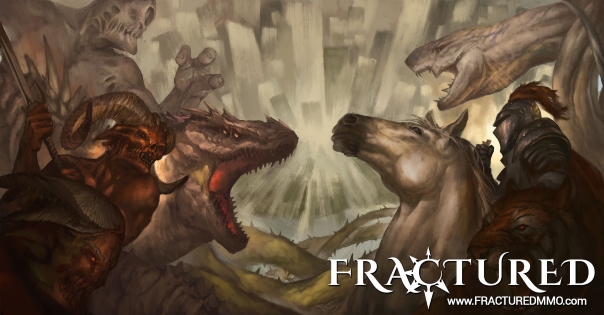 Dynamight Studios, a new Italian game development startup, has revealed today its new sandbox MMORPG named Fractured. The game is being built upon the revolutionary cloud-based virtual world-building platform SpatialOS, created by the British technology startup Improbable, which will allow Dynamight Studios to provide the game with a massive seamless universe and an unprecedented level of interaction with the environment.
The Fractured project, born in January 2017, plans to bring together the best of Action RPGs and Sandbox MMOs, two genres that haven't been successfully matched before. On one hand the game will feature a highly skill-based combat system that rewards tactics, reflexes and nimbleness of fingers; on the other hand, the user will be immersed in a fully player-driven economy, with an emphasis on realistic resource management, crafting and advanced world colonization features.
On top of that, Dynamight Studios wants to broaden its audience by allowing new players to be competitive from day one, by getting rid of the "grinding" mechanics that characterize the genre, and by implementing innovative rules on player interactions.
Jacopo Gallelli, Dynamight's CEO, stated:
The core of progression in Fractured is that the strengths and weaknesses of a character should be determined during its creation. After that point, the player will be on a journey to improve the knowledge and reputation of his/her character, mainly through exploration and social interactions.

Moreover, we have always felt that the sandbox MMO genre discourages online gamers who don't appreciate hostile interactions. Because of this, we have designed a unique universe that will allow players to choose whether to start in an open-PvP environment, a solely cooperative one or a mix of the two, according to their race and planet of choice.
Registration to Fractured is already available on its web portal, and new users will have the chance to take part in weekly lotteries for alpha game keys. Dynamight Studios' plan for the coming months is also to release developer blogs on a regular basis, each time disclosing new details on the unique features and mechanics of the game.
Next Article
NCSOFT® and ArenaNet™, publisher and developer of the acclaimed Guild Wars franchise, today released its "September 2014 Feature Pack,&qu...
by Mikedot
Joymax is holding a special GM hunt in Knight Age.
by MissyS