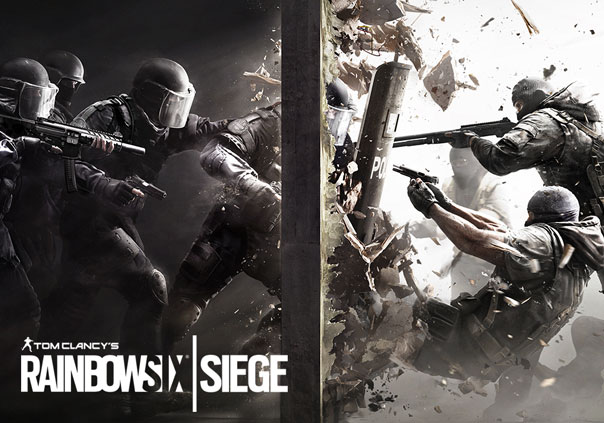 Tom Clancy's Rainbow Six Siege
Tom Clancy's Rainbow Six Siege is a tactical FPS title by Ubisoft available for Xbox One, PS4, and for PC on Steam. As a successor to the now cancelled Tom Clancy's Rainbow 6: Patriots, Siege puts heavy emphasis on environmental destruction and co-operation. Players will have to master the arts of destruction and gadgetry if they want to succeed!
Transform the battlefield in different ways depending on if you're going on the offensive or holding down against an enemy assault. If you're on the defensive transform your environments into strongholds with fortifications, traps, and other defensive systems. When taking an offensive approach you'll want to destroy enemy fortifications by whatever means necessary like shattering walls and breaching ceilings to create new access points for your team to utilize.  You can even use observation drones to scout out weak points and rappel down enemy bases for attacks! Find and destroy your targets by making use of every weapon and gadget in your team's arsenal.
Rainbow Six Siege is a game that not only allows you to transform the environment, but will continue to mix up gameplay. As updates introduce new operators, weapons, maps, and gadgets different strategies will emerge. Find out what works best for you, but also what works best for your team depending on what you're up against. Evolve your gameplay styles with the game itself so you can stay on top of your game and become one of the most dangerous operators in existence.
Operators who are looking to really put their skills to the test can try their hand at competitive play. Compete against others from across the world in ranked matches and take part in weekly tournaments to see how you stack up against the competition. However, whether you're jumping into a ranked match or something more casual make sure you're ready for the upcoming explosions and action!

Status: Pre-Release
Release Date: Oct 13, 2015
Business Model: Retail
Developer: Ubisoft
Publisher: Ubisoft
Category: Stand-alone
Genre(s): 3D, Shooter
Platforms: PC, Steam, Xbox One, PS4


Recommended System Requirements:

OS: Windows 7 SP1, Windows 8.1, Windows 10 (64-bit)
CPU: Intel Core i5-2500K @ 3.3 GHz or better or AMD FX-8120 @ 3.1 Ghz or better
RAM: 8 GB
GPU: NVIDIA GeForce GTX 670 (or GTX 760 / GTX 960) or AMD Radeon HD 7970 (or R9 280x [2GB VRAM] / R9 380 / Fury X)
HDD: 47 GB