UPDATE: This game has been shutdown and is no longer available
Nitto 1320 Legends is a 2D drag racing MMO where players can customize their car using dozens of parts. Earn street cred, buy new cars, and become the best drag racer online! Nitto 1320 Legends doesn't allow players to freely control their vehicle during races, instead they move forward on a predetermined path.
Publisher: Cie Studios
Playerbase: Low
Graphics: Low Quality
Type: MMO
EXP Rate: Low
PvP: N/A
Filesize: ~92 mb
Pros: +No email confirmation required. +Low system requirements. +Good tutorial. +Regularly scheduled tournaments.
Cons: -
Cash shop cars are overpowered. -Only one course. -Limited gameplay components. -Poor visuals.
Overview
Nitto 1320 Legends Overview
Nitto 1320 Legends is a simple racing game where players outfit their cars and race down a predetermined path. It's not as in depth as Heat Online or Need for Speed World, but has lower system requirements and a smaller client size. There's only one map, and only two game modes so Nitto 1320 Legends isn't for everyone. Players must properly switch from gear to gear as they speed along the track. There's no need to worry about driving, the game is more concerned with mechanics. Earn cash to purchase new cars and parts to be the best drag racer out there.
Starting Cars - Scion tC, Nissan Sentra SE-R, Acura Integra GSR
Nitto 1320 Legends Screenshots
Nitto 1320 Legends Featured Video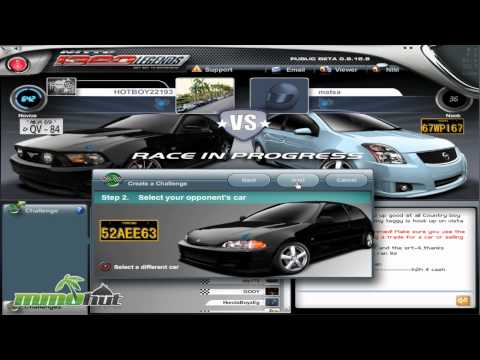 Full Review
Nitto 1320 Legends Review
Coming soon…
Screenshots
Nitto 1320 Legends Screenshots
Coming soon…
Links
Nitto 1320 Legends Links
System Requirements
Nitto 1320 Legends Requirements
Minimum Requirements:
OS: Windows XP
CPU: Intel Pentium 4 1.2 GHz
RAM:  1 GB
HDD: 2 GB Free
Graphics Card: nVidia 7600
Recommended Specification:
OS: Windows XP / Vista / 7
CPU: Intel Core 2 Duo 2.3 GHz or better
RAM: 3 GB or more
HDD: 10 GB Free or more
Graphics Card: GeForce 9400 GT or better