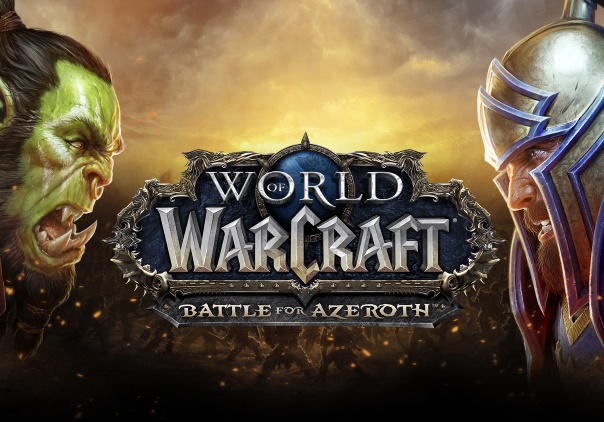 World of Warcraft is a 3D massively multiplayer online role-playing game featuring an expansive and engaging world filled with incredible battles, narrative-focused quests, and a wealth of side activities.
Story
There's many tales to be told in Azeroth, but none are more important than the one you undertake at the beginning. Alliance, or Horde? The choice, and subsequent follow through, is yours alone to make.
Features
►Content Rich: With over 90 levels of content spanning several expansions, ranging from casual PvE to hardcore PvP, there's thousands of things to do in World of Warcraft.
►Challenging PvP: From the battlegrounds of Warsong Gulch to the eSports arenas that pit the best against each other, there's always someone to test yourself against.
►Expansive Storyline: Continuing the storyline that began with the original Warcraft, WoW has expanded and told the story of the world of Azeroth with you as the central hero.
►LEEEROY M'JEEENKINS: Team up with a few of your friends to take on difficult dungeons and their awe-inspiring bosses.
►Factions, Pet Battles, Farming, & More: When raid bosses are downed, take a break with more relaxing activities that include reputations, pet battles, farming, and much more.
►Professional: Gather resources and train up skill for a variety of helpful benefits.
►Good vs. Evil: Rep your faction and fight for their glory!
►Character Sheet: Create and customize your avatar with a significant amount of cosmetic and gameplay options.
►Clan It: Chat with friends and participate in other group based content with the Guild System.
Races
The Alliance: Humans, Gnomes, Night Elves, Dwarves, Draenei, Worgen, & Pandaren
The Horde: Orcs, Trolls, Undead, Tauren, Blood Elves, Goblins, & Pandaren
Classes
Druid: The most versatile class. Druids are effect support characters but can also call upon their feral nature and shapeshift into powerful beasts.
Hunter: The archer class of WoW, Hunters prefer to attack from a distance and lay traps. Hunters can tame beasts and fight in melee range when the need arises.
Mage: Masters of the elemental arts, Mages have high damage potential but suffer from low defense.
Paladin: Holy warriors who can wear plate but can also cast supportive spells to aid their allies in battle.
Priest: The main supportive class in WoW. Priests have the most powerful healing spells but can also inflict heavy damage with shadow related spells.
Rogue: The premier melee damage class. Rogues can dish out a lot of hurt in a short period of time but suffer from lower defense and health compared to other melee classes.
Shaman: In touch with the spirit world, Shaman's use totems to channel energy towards those around them — be they friend or foe. Shamans are a hybrid class capable of both melee and magic attacks.
Warlock: Sinister spell casters who use the diabolical arts to summon demons to serve them. Warlocks learn curses and DoTs that weaken and damage their opponents.
Warrior: The primary melee fighter and tank. Warriors in WoW can do much more than absorb damage, properly trained they are capable of inflicting heavy damage.
Death Knight: The first 'Hero Class.' Introduced in the Lich King expansion, Death Knights start the game at level 55.
Monk: Released with Mists of Pandaria, the monk class is a hybrid that is capable of powerful tanking, melee DPS, and melee-healing.
Demon Hunter: Released with Legion, the Demon Hunter class is capable of tanking and DPS, and starts the game at level 98.
Expansions
The Burning Crusade: This expansion introduces players to the new races of Blood Elves and Dranei, as well as a new playable area called the Outland where players can participate in a series of quests to either aid Illidan or bring upon his downfall.
Wrath of the Lich King: Now the Lich King, Arthas Menethil, has emerged from Icecrown Citadel to claim the world as his own. Players from both the Horde and Alliance must band together in Northrend to make a stand against the evil ruler. This expansion introduces both a new playable area, Northrend, and a new hero class, the Deathknight.
Cataclysm: This expansion set follows the return of the evil Dragon Aspect Deathwing the Destroyer—formerly known as the ancient guardian Neltharion the Earth Warder—who causes a new Sundering as he makes his cataclysmic re-entrance into the world from Deepholm, the elemental plane of earth. This expansion introduces many new high level zones, as well as the Worgen and Goblin races.
Mists of Panderia: This expansion introduces Pandaria – where players will discover the continent and level up, helping to solve problems and figure out what happened for the past 10,000 years and why – will be included entirely within the initial expansion release. Included are the playable race called the Pandaren and the new Monk class.
Warlords of Draenor: This expansion brings about the era of an Old Horde, forged with steel rather than fel blood. A union of great orc clans, the Iron Horde, tramples the planet Draenor beneath terrifying war machines. Players must mount a charge on Draenor at this pivotal moment to save the world. Included is the new playable world of Draenor.
Legion: In this expansion the Tomb of Sargeras has been reopened, and the demons of the Burning Legion pour into our world. Their full, terrifying might is fixed on summoning the Dark Titan to Azeroth-and they've already located the key to his return. With the Alliance and Horde devastated, adventurers must take up legendary artifacts and weapons used by the heroes of old, scour the ancient Broken Isles for relics of the Titans, and challenge the Burning Legion before Azeroth's last hope dies. Included is a new continent, the Broken Isles, and a new hero class, the Demon Hunter.
Battle for Azeroth: In this expansion Azeroth paid a terrible price to end the apocalyptic march of the Legion's crusade—but even as the world's wounds are tended, it is the shattered trust between the Alliance and Horde that may prove hardest to mend. As this age-old conflict reignites, join your allies and champion your faction's cause—Azeroth's future will be forged in the fires of war. Included are two new continents and six new races, three for each faction.
Microtransactions
This is a 'Free to Try' title with the option to purchase a monthly subscription to access nearly all content. Additionally, you are be able to buy recent expansions and various in-game resources.
Status: Released
Release Date: Nov 23, 2004
Business Model: Subscription
Developer: Blizzard Entertainment
Publisher: Blizzard Entertainment
Category:

Stand-alone

Genre(s):

3D, MMO, Adventure, RPG, Fantasy

Platforms:

PC, Mac


Editor's Score: 3.5/5

Pros:

+Extensive Amounts of Content
+Significant Lore Background
+Wealth of Character Customization

Cons:

-Difficult to Jump Into for Newer Players to the Series
-Dated Visuals and Gameplay Designs
-Extremely Grindy



Recommended System Requirements:

OS: Windows 7+ 64-bit
CPU: Intel Core i5-760/AMD FX-8100+
RAM: 4 GB
GPU: NVIDIA GeForce GTX 560 2GB/AMD Radeon HD 7850 2GB/Intel HD Graphics 530+
HDD: 70 GB



Description: World of Warcraft is a 3D massively multiplayer online role-playing game featuring an expansive and engaging world filled with incredible battles, narrative-focused quests, and a wealth of side activities.
The gamigo group announced today that Aura Kingdom has an extensive update arriving today with Patch 50.
by Ragachak
Want to know what's coming next in Shadowrun Online? Want to argue why street samurai are better than shamans? Are boxers or briefs bette...
by Mikedot